Camarillo's Premier Senior Community - Leisure Village
Leisure Village located in Camarillo nestled in the Santa Rosa Valley with a backdrop of the Santa Monica Mountains is a premier senior community with 2,136 homes. This beautiful and active community has a little bit of everything to meet the needs of its residents. With mild coastal temperatures and over 440 acres, this may be the next place you call home.
The homes in Leisure Village were built between 1977-1982 ranging from stand-alone homes, duplexes, triplexes, and four-plexes. All homes are single story ranch style homes with at least a 1 car garage. Multiple floorplans ranging from 672 sqft to 1829 sqft are available.
With so much to offer, Leisure Village is one of the most desired senior communities in Ventura County. With an 18 hole golf course, recreation center, pool/spa, tennis court and much more, activities are endless for its active residents.
HOA fees range from $393 - $594 covering the following:
Gated Security

Free RV Parking

Basic Cable

Water Usage

Trash Pickup

Gardening

Lifetime Roof Protection

All Wood Trim & Doors painted 8 years

Fire, Hazard & Earthquake Insurance

Paddle tennis, Bocce, Horseshoes, Golf, Tennis, Shuffleboard, Pool, Spa, Sewing Room, Woodshop, Ceramics Room and so much more.
One resident must be 55 to live in Leisure Village. Guests are allowed to stay for up to 3 months.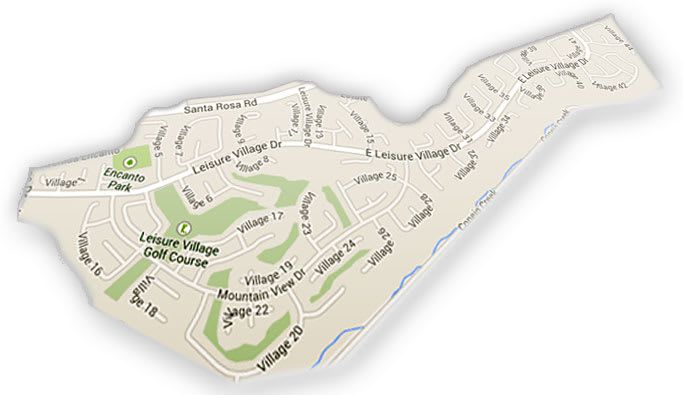 Did you know about Prop 60 & 90?
Proposition 60 allows you to transfer your current property's assessed value into a new replacement property. In other words, you would be able to buy a new property, yet still, pay the same property taxes. With the expanded Proposition 90, you can transfer within different Counties. Click below to read more about these Propositions.
Proposition 60 allows you to transfer your current property's assessed value into a ne...
Check out all the active homes for sale in Leisure Village below:
| | |
| --- | --- |
| | $449,500 |
| | $459,900 |
| | $400,000 |
| | $399,000 |
| | $429,900 |
| | $399,000 |
| | $359,000 |
| | $525,000 |
| | $589,900 |
| | $410,000 |
| | $475,000 |
| | $407,000 |
| | $530,000 |
| | $399,900 |
| | $429,000 |
| | $455,000 |
| | $420,000 |
| | $599,500 |
| | $710,000 |
| | $349,000 |
| | $397,500 |
| | $369,000 |
| | $399,000 |
| | $449,500 |
| | $539,000 |
| | $445,000 |
| | $715,000 |
For more information about Leisure Village visit their webpage at Leisurevillage.com