Help me Support the Big Brothers & Sister of Ventura County. This is my story...
On March 27th, 2007 my life changed forever.

Becoming a Big Brother to Tony was a life changer.
Growing up I had a lot of mentors. My parents are amazing, but at times your parents cannot give you all the answers you need. Those mentors shared so much knowledge, wisdom, and guidance.
I am forever grateful to them. My life is better because they helped me during some of darkest times in my life.
In 2006, I read about the Big Brothers and Sisters of Ventura County in a newspaper and it spoke to my heart and I thought to myself, "If I only had the time, I would love to do that!" It was always in the back of my mind.
It is funny how certain things speak to you because on January 5th of 2007 the Simi Valley Acorn did an amazing article about the program.
"This is a SIGN!" I told myself. I need to PAY IT FORWARD and I hoped maybe I can share the knowledge from all the mentors that helped me succeed in my life. I called and applied to become a Big Brother.
I was matched with Tony in 2007.
Tonys Mom (an amazingly strong woman) enrolled him in the program because his father passed away before he was born. Tony was acting out in school, fighting, and not heading in the right direction.
You would never think that because he was such a shy kid.

We met every week for an hour and that time grew as the years passed by.
Some of these kids in the program have seen more "Real Problems" than most adults today.
I know that I have made a difference in his life because Tony has told me many times throughout the years and guess what?
This tough looking tattooed realtor has cried 😭 every single time he has told me.
Tony is still in my life today and the bond we have is unbreakable. I am so thankful because I could never picture my life without him.
This is just my story and there are countless others in this organization.
My goals are to
1. Help spread awareness about this fantastic program. Please Share
2. Help bring in more mentors! (Especially men, 70% of boys are on a waiting list 😓)
3. Bring in more Donations 💰 to help support Mentorship.
I think the youth today need more mentors than ever with Social Media & the Opioid Crisis.
---
WHAT CAN YOU DO TO HELP ME SUPPORT THIS AMAZING ORGANIZATION?


We can ALWAYS use more mentors and especially donations throughout the year.
Our First Event in 2018 Starts off with Bowl for Kid's Sake.
Bowl for Kids' Sake is a peer-to-peer fundraiser that supports BBSVC throughout the years.
---
SOME OF THE WAYS TO HELP WITH BOWL FOR KIDS' SAKE


or
TEXT code BFKS21 to 71777.
My goal is $2,000.00 💵
Help me get there. If you have a few dollars to spare they all add up!
🧐 Did you know? It cost the BBSVC $1,500.00 a year to support a match.
---
2. Love to Bowl? Why not register to become a fundraiser!
Whether you are starting a team, joining a team, bowling as an individual, or "virtual bowling."
Visit www.bbsvc.org/BOWL and fill out your profile information. If you want to join a team, search for your friends by TEAM NAME, or start a team of your own and tell your friends to join you!
If you need any help, please reach out to them at 805-484-2282 - Tell them Eddy sent you.

---
3. Have a company? Become a Sponsor!
We are always in need of them. The exposure is amazing and most likely tax deductible. 😎 Please check with your CPA, since I am a realtor.
More information to become a Sponsor please contact Rene' Solem at 805-603-4938 or via email at [email protected]
---
4. Donate some merchandise for prizes and giveaways.
More information to become a Sponsor please contact Rene' Solem at 805-603-4938 or via email at [email protected]
---
5. Thinking about volunteering? Become a mentor! I am telling you it is an amazing experience. Any questions you can reach out to me or check out the volunteer page on the BBSVC website.
---
Who are the Big Brothers & Sisters of Ventura County?

---
What is their Mission?
Is to provide all children facing adversity with professionally supported, one-to-one mentoring relationships that change their lives for the better, forever!
What do they do?
For more than 100 years, Big Brothers Big Sisters has operated under the belief that inherent in every child is the ability to succeed and thrive in life.
As the nation's largest donor- and volunteer-supported mentoring network, Big Brothers Big Sisters makes meaningful, monitored matches between adult volunteers ("Bigs") and children ("Littles"), ages 6 through 18, in communities across the country.
They develop positive relationships that have a direct and lasting effect on the lives of young people.
Check out these Stats 🧐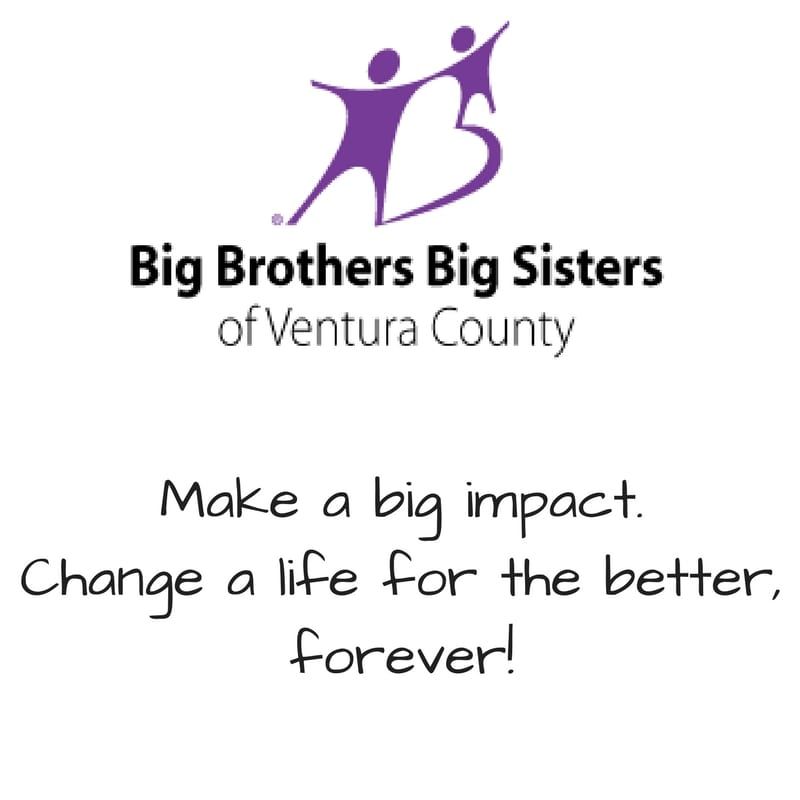 There are plenty of more events in 2018 to help fundraise too.

I Love YOU BRO