Simi Valley & Moorpark Open House List for April 16th & 17th
Welcome to our weekly Open House List for April 16th & 17th. These homes are located in Simi Valley and Moorpark. The market is picking up, 103 open houses this weekend in Simi Valley & Moorpark! It's a seller's market and things are getting crazy out there. Call us to list your home today and let's get you top dollar!
We also provide an open house list for Thousand Oaks & Westlake Village Open House List, or let us know if you are interested another area and we will send you a customized list.
What is this picture of?
Santa Susanna Depot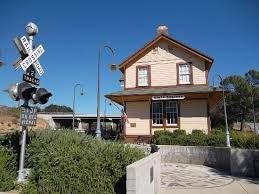 Open every weekend 1pm-4pm
The train depot is fun for kids of all ages, and it's free. There's a small museum which gives some insight on the history of Simi Valley. There is also a model train room where children can watch the trains go by a miniature city of Simi, and best of all, if you are there at the right time, you can see a real train pass just feet away.
As of this morning's Realtor Report, there are a total of 103 open houses scheduled. ( 33 Open Houses on Saturday, 70 Open Houses on Sunday)
We appreciate all of your referrals and support!
Enjoy your Open House List...
OPEN HOUSES LIST FOR SATURDAY April 16th, 2016
Moorpark
13989 Burdock Dr, Moorpark 12:00PMto4:00PM $699,000
1:00PMto4:00PM $569,000
1:00PMto4:00PM $684,900
14382 Peach Hill Rd, Moorpark 1:00PMto4:00PM $759,900
1:00PMto4:00PM $765,000
1:00PMto4:00PM $874,900
Simi Central
1137 Cavalier Ave, Simi Valley 12:00PMto4:00PM $465,000
1:00PMto4:00PM $499,000
1267 Sawyer Ave, Simi Valley 1:00PMto4:00PM $499,900
1:00PMto4:00PM $550,000
1:00PMto4:00PM $599,000
1:00PMto4:00PM $719,000
1:00PMto4:00PM $869,950
2:00PMto5:00PM $524,000
2:00PMto5:00PM $529,900
Simi East
1:00PMto4:00PM $329,999
11:00AMto2:00PM $347,000
1:00PMto4:00PM $569,000
1:00PMto4:00PM $579,900
3173 Tecopa Springs Ln, Simi Valley1:00PMto4:00PM $749,000
5346 Willow Oak St, Simi Valley 1:00PMto4:00PM $749,000
1:00PMto4:00PM $999,500
11:00AMto4:00PM $608,998
2:00PMto4:00PM $695,000
2:00PMto5:00PM $749,900
Simi West
1:00PMto5:00PM $429,900
1:00PMto4:00PM $569,000
808 Lindamere Ct, Simi Valley 1:00PMto4:00PM $965,000
Wood Ranch
12:00PMto3:00PM $1,198,000
1:00PMto4:00PM $639,950
368 Sycamore Grove, Simi Valley1:00PMto5:00PM $968,000
11:00AMto3:00PM $1,150,000
2:00PMto5:00PM $759,950
OPEN HOUSES LIST FOR SUNDAY April 17th, 2016
Moorpark
15124 Campus Park Dr #C, Moorpark 1:00PMto4:00PM $369,500
1:00PMto4:00PM $495,000
1:00PMto4:00PM $710,000
1:00PMto4:00PM $712,000
1:00PMto4:00PM $1,349,950
1:00PMto4:00PM $1,574,990
1:00PMto4:00PM $1,695,000
1:30PMto4:00PM $335,000
1:00PMto4:00PM $559,900
1:00PMto4:00PM $639,000
1:00PMto4:00PM $684,900
14382 Peach Hill Rd, Moorpark 1:00PMto4:00PM $759,900
1:00PMto4:00PM $799,000
1:00PMto4:00PM $799,999
1:00PMto5:00PM $836,000
1:00PMto4:00PM $849,000
2:00PMto4:00PM $769,500


Simi Central
1137 Cavalier Ave, Simi Valley 12:00PMto4:00PM $465,000
1:00PMto4:00PM $330,000
1:00PMto5:00PM $489,000
1:00PMto4:00PM $509,900
1:00PMto4:00PM $525,000
1:00PMto4:00PM $719,000
1:00PMto4:00PM $719,900
1:00PMto4:00PM $795,000
1:00PMto4:00PM $869,950
1:00PMto4:00PM $950,000
2:00PMto5:00PM $524,000
2:00PMto5:00PM $529,900
Simi East
12:00PMto3:00PM $559,000
2303 Archwood Ln #108, Simi Valley1:00PMto4:00PM $240,000
1948 Rory Ln #1, Simi Valley1:00PMto4:00PM $354,000
1:00PMto4:00PM $549,950
6230 Anastasia St, Simi Valley1:00PMto4:00PM $565,000
1:00PMto4:00PM $569,000
1:00PMto4:00PM $579,900
1:00PMto4:00PM $615,000
1:00PMto4:00PM $689,000
3173 Tecopa Springs Ln, Simi Valley1:00PMto4:00PM $749,000
1389 Hidden Ranch Dr, Simi Valley1:00PMto4:00PM $815,000
1:00PMto4:00PM $999,500
1:00PMto4:00PM $1,129,900
2:00PMto4:00PM $444,500
5059 Woodbridge Ln, Simi Valley2:00PMto5:00PM $539,000
2:00PMto5:00PM $549,900
2:00PMto5:00PM $749,900
Simi West
1772 Sinaloa Rd #185, Simi Valley 1:00PMto4:00PM $275,000
2573 Chandler Ave, Simi Valley 1:00PMto4:00PM $399,000
1:00PMto5:00PM $429,900
1:00PMto4:00PM $569,000
1:00PMto4:00PM $599,900
1:00PMto4:00PM $729,000
1:00PMto4:00PM $734,950
1:00PMto4:00PM $1,069,000
1:00PMto4:00PM $1,369,000


Wood Ranch
531 Hooper Ave, Simi Valley1:00PMto4:00PM $525,000
1:00PMto4:00PM $639,950
1:00PMto4:00PM $659,000
1:00PMto5:00PM $749,999
539 Grass Valley St, Simi Valley1:00PMto4:00PM $819,000
1:00PMto4:00PM $899,900
368 Sycamore Grove, Simi Valley 1:00PMto5:00PM $968,000
1:00PMto4:00PM $999,950
12:00PMto3:00PM $736,000
2:00PMto5:00PM $759,950
2:00PMto5:00PM $839,000
12:00PMto3:00PM $1,198,000