Ventura County 🎡 Fair Schedule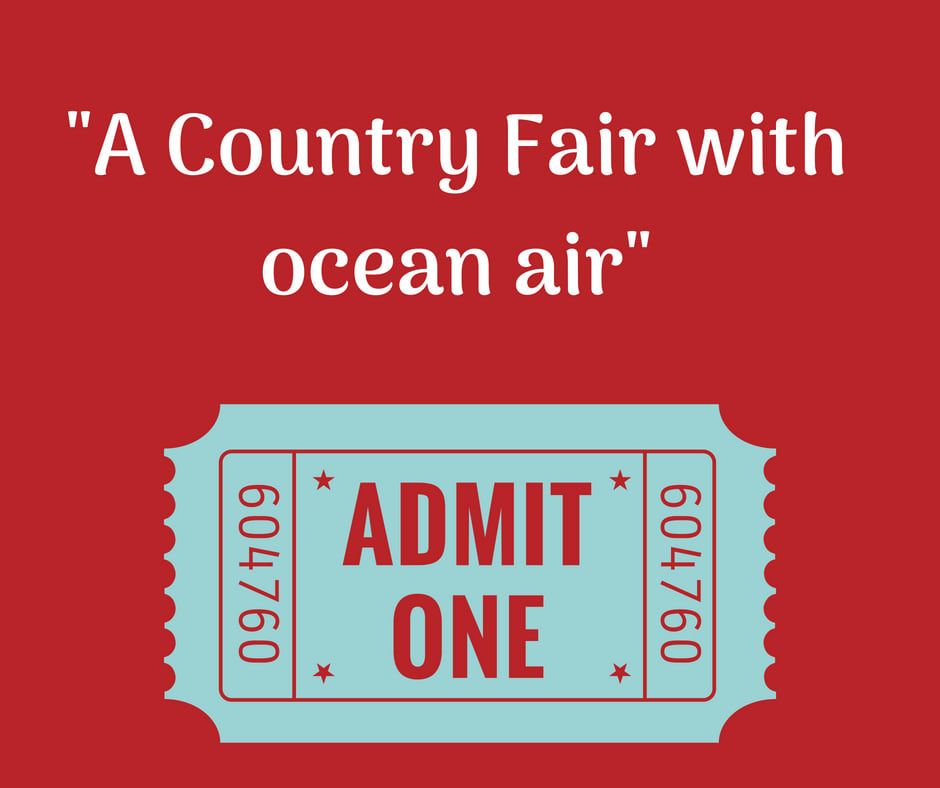 Don't miss out on this year's Ventura County Fair, being held August 1st thru the 12th.
Enjoy the cool ocean air, with daring rides, free entertainment, and the culinary delights of funnel cakes, turkey legs and more! This family tradition in Ventura County was started in 1875 and has continued thru today.
Ventura County Fair offers free concerts and entertainment with a paid admission.
2018 Grand Stand Concerts


Aug 2nd - UB40 featuring Ali, Astro & Mickey
-starts at 7:30 pm
Aug 3rd - Plain White T's
-starts at 7:30 pm
Aug 4th - Leann Rimes
-starts at 7:30 pm
Aug 5th - Alfredo Olivas, Ulices Chaidez, and Lorenzo de Monteclaro
-starts at 3:00 pm
Aug 6th - Sublime with Rome
-starts at 7:30 pm
Aug 7th - Frankie Valli & the Four Seasons
-starts at 7:30 pm
Aug 8th - Boy II Men
-starts at 7:30 pm
Aug 9th - Hunter Hayes
-starts at 7:30 pm
Aug 10th - Creedence Clear Water Revision
-starts at 7:30 pm
Profession Cowboy Rodeo
-Free with admission
Aug 11th 2 pm & 7 pm
Aug 12th 2 pm & 7 pm
Motorcross
- Requires an additional ticket to be purchased to attend
Aug 1st 6 pm
Special Admission Days
Dollar Day – Wednesday, August 1
Entry to the Fair is $1 until 3 pm
Feed the Need Day – Thursday, August 2
Purchase adult admission ticket and bring 5 cans for food for FOOD SHARE before 5 pm & get a FREE return fair ticket, valid Mon-Thurs, Aug 6-9
Youth Day – Friday, August 3
All Fair visitors 12 years of age and younger will be admitted free all day
Seniors and Persons with Disabilities Day – Tuesday, August 7
Senior citizens ages 65 and older and persons with disabilities admitted free
$3 Before 3 Day – Wednesday, August 8
Military Appreciation Day – Thursday, August 9
All military personnel holding a current, valid military i.d. admitted free in honor of their service, Thank you!
Fair Hours & Admission
Admission
$12.00 Adults
$9 Children and Seniors 65+
Super Seniors (100+) enter free!
Hours
The Fair will open at 11:00 AM every day.
Carnival Midway opens at noon every day.
Children's Dell opens at 11:00 AM every day.
Exhibits close at 10:00 PM
Commercial exhibits open until 11:00 PM on Friday and Saturday only
We take admissions until 10:00 PM
Fair closes at 11:00 PM
Carnival closes between 11:00 PM and midnight.
Presale tickets are available now - save money by buying early!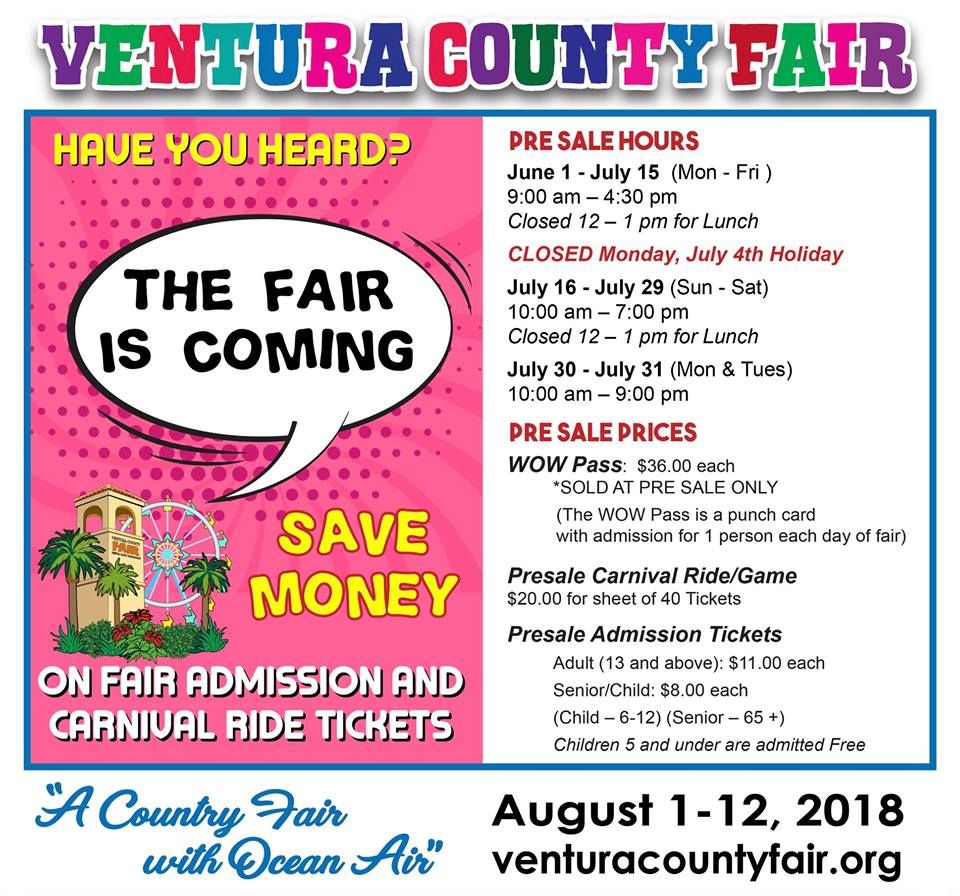 Hope you have a safe and fun summer enjoying all the entertainment the Ventura County Fair has to offer!