Your Weekly Open House List for January 23rd & January 24th
Welcome to our weekly Open House List for January 23th & 24th. These homes are located in Simi Valley and Moorpark.
If you want an open house list in a different location - We can help you too. Just contact us and we can send you a List in a pdf. format.
As of this mornings realtor report, there are a total of 67 open houses scheduled. ( 22 Open Houses on Saturday, 45 Open Houses on Sunday)
We would like to Thank you and continue to THANK YOU all for the support you have given us. Our business means nothing without your support. Your referrals keeps our business alive.
The Eddy Milanes Group was awarded 2nd place for Top Individual Selling agent out of 375+ agents at Keller Williams Realty in Westlake.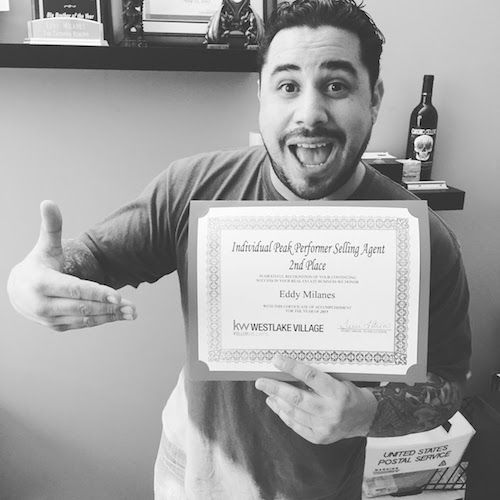 We want to continue this success for 2016 and need your help to make this year a better year.
We are committed to continue delivering a hands on and truthful approach with your real estate needs.
Many of you that have worked with us, know we treat you right. We give you our hearts and souls with no games and speak the truth.
Want some proof, we have received over 70 - 5+ reviews and many more to come.
Give us an opportunity to show you why people decide to sell or buy with us. No matter what the price range is.
Enjoy your Open House List...
PS - We have a few listings coming up. Please give our Facebook page a "Like" we will be having our "Guess the List Price Game" shortly.
A few lucky winners will be receiving gifts cards.




OPEN HOUSES LIST FOR SATURDAY January 23th, 2016

Central Simi Valley
11:00AM to 4PM $499,900
12:30PM to 4PM $629,500
1:00PM to 4PM $487,000

1:00PM to 4PM $510,000
1:00PM to 4PM $619,900
2:00PM to 4PM $569,900

East Simi Valley
12:30PM to PM $495,000

1:00PM to 4PM $334,900
1:00PM to 4PM $499,000
1:00PM to 4PM $539,900
1:00PM to 4PM $549,000
1:00PM to 4PM $680,000


West Simi Valley
1:00PM to 4PM $689,950
1:00PM to 4PM $740,000

Wood Ranch
1:00PM to 4PM $484,900
1:00PM to 4PM $819,000
Moorpark
12:00PM to 3PM $300,000
12:00PM to 3PM $614,000
1:00PM to 4PM $529,900

1:00PM to 3PM $684,500
1:00PM to 4PM $749,900

OPEN HOUSES LIST FOR SUNDAY January 24th, 2016

Central Simi Valley
1:00PM to 4PM $289,500
1:00PM to 4PM $469,000
1:00PM to 4PM $487,000
1:00PM to 4PM $510,000
1:00PM to 4PM $514,950
1:00PM to 4PM $549,000
1:00PM to 4PM $549,000
1:00PM to 4PM $619,900
1:00PM to 4PM $625,000
1:00PM to 4PM $675,000
1:00PM to 4PM $699,900
1:00PM to 4PM $799,999
1:00PM to 4PM $864,950
1:00PM to 4PM $939,000
1:00PM to 4PM $979,997
East Simi Valley
1:00PM to 4PM $209,900
1:00PM to 4PM $219,000
1:00PM to 4PM $334,900
1:00PM to 4PM $366,000
1:00PM to 4PM $492,900
1:00PM to 4PM $539,900
1:00PM to 4PM $699,000
1:00PM to 4PM $899,900
West Simi Valley
1:00PM to 4PM $429,000
1:00PM to 4PM $430,000
1:00PM to 4PM $474,900
1:00PM to 4PM $574,500
1:00PM to 4PM $689,950
1:00PM to 4PM $829,000
1:30PM to 4PM $479,000
Wood Ranch
1:00PM to 4PM $453,000
1:00PM to 4PM $484,900
1:00PM to 4PM $559,900
1:00PM to 4PM $599,999
1:00PM to 4PM $819,000
1:00PM to 4PM $829,900
1:00PM to 5PM $935,000
1:30PM to 4:30PM $729,000
Moorpark
1:00PM to 4PM $483,000
1:00PM to 3PM $684,500
1:00PM to 4PM $735,000
1:00PM to 4PM $745,000
1:00PM to 4PM $749,900

1:00PM to 5PM $1,775,000
2:00PM to 5PM $399,000