Egg Hunts in Ventura County
Egg Hunts in Ventura County
L
Easter Hoppening Event at Malibu Bluffs Park
LFirday 3pm to 6 pm
$5 Event Pass will be available to purchase on March 1 at Bluffs Park
Event pass will provide access to the Egg Hunt, Bounce Houses, interactive demonstrations and an art activity. Food trucks and flower crowns are an extra fee.
Donate a box of crayons to the Crayon Collection and receive one complimentary event pass

Event Activities include:
Photos with the Easter Bunny
Art Activity with Makers Mess
Flower Crowns with Cake & Punch
Kidz Love Soccer interactive demonstration
Bounce Houses
La Donut Food Truck
Armandos Food Truck

Egg Hunt Schedule - Egg Hunts begin promptly at 3:00 PM
3:00pm: 2 & Under (Parent & Me)
3:20pm: Ages 3-4
3:40pm: Ages 5-7
4:00pm: Ages 3-4
4:20pm: Ages 5-7
4:40pm: Ages 8-10

Bring a camera
Limited onsite parking, additional parking can be found on Malibu Canyon Road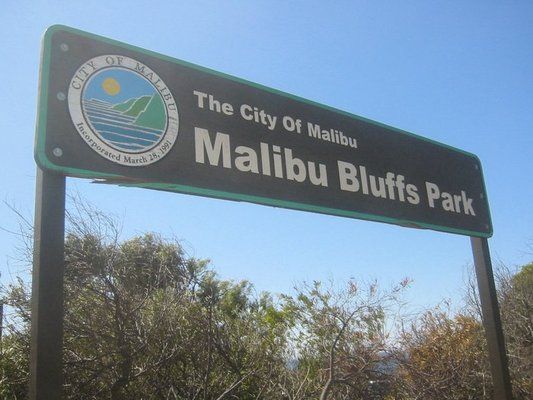 Underwood Family Farms
March 30th to April 22 Daily
The big white rabbit is at the farm daily 9am - 6pm and included with admission to our Springtime Easter Festival running now through April 22. Make sure to bring your camera!
Festivities also include the Cotton Harvester Slide, tractor-drawn wagon ride around the farm, Storyboard Labyrinth, Easter Basket and more! Activities take place every day.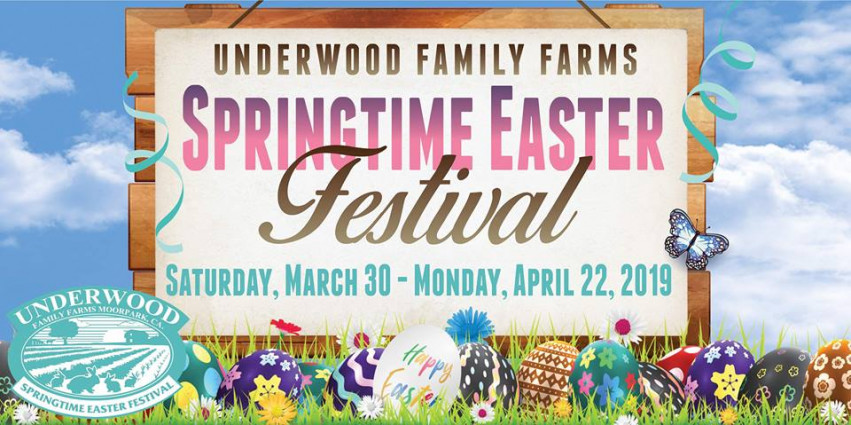 Bunny Hop Event a the Collections at River Park in Oxnard
Saturday April 6th 10 am to 12 pm
Have a hoppin' good time and start your spring fling off right at The Collection's annual Bunny Hop event presented by our community partners St. John's Regional Medical Center and St. John's Pleasant Valley Hospital on April 6th from 10 a.m. – 12 p.m.

Guests of all ages are invited to join in the fun with special arts and crafts and activities with several local businesses including supporting sponsor Sunny Smiles Dentistry: Ventura, Santa Barbara & Oxnard.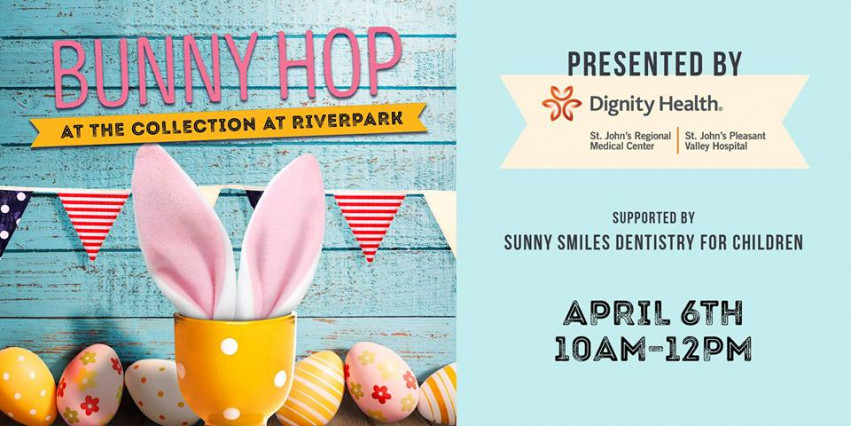 The Hunt - Ventura's Largest Holiday Egg Hunt
Saturday April 6th 10:30 am to 1 pm
The Hunt, Ventura's largest FREE Holiday Egg Hunt is planned for April 6, 2019 from 10:30 am to 1pm at Mission Park, 185 E. Santa Clara Street, Ventura.

Bring your own basket and enjoy hunts for each age group, a HUGE Kids' Zone, arts & crafts, and a special appearance by the Easter Bunny! With over 25,000 eggs to be found, this will be a fun event for everyone! No tickets required.

Age Groups:
ADA Hunt - 11:00-11:30 AM
0-3 Years - 11:30-12:00 PM
4-6 Years - 12:00-12:30 PM
7-12 Years - 12:30-1:00 PM

Immediately following The Hunt, enjoy the FREE Spring Street Fair. Enjoy live entertainment while you shop local arts and craft vendors! More info at www.thehuntventura.com.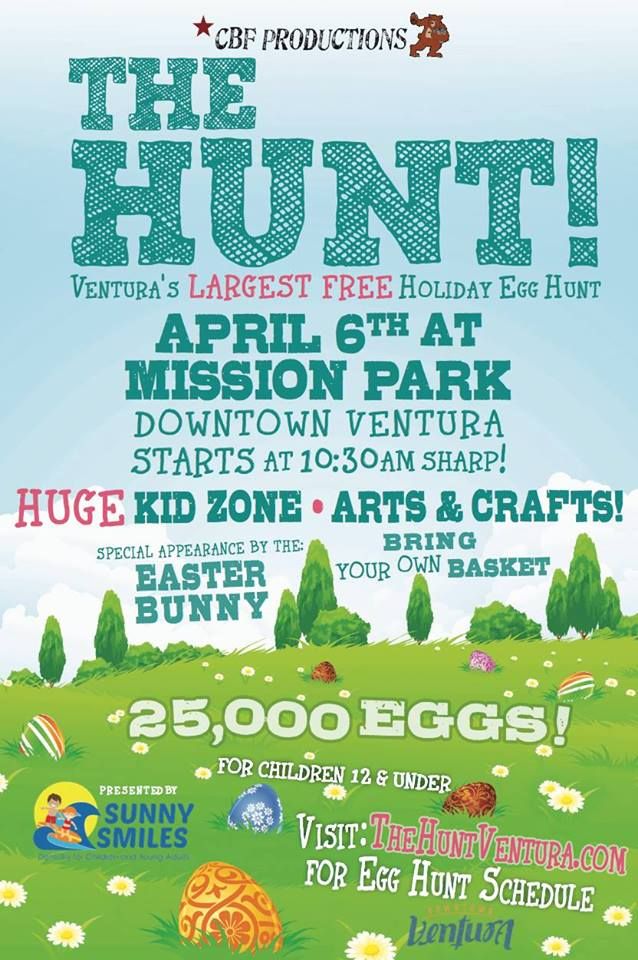 City of Westlake Village 1st Annual Spring Fling
Sunday April 7th 2 pm to 5 pm
New this year! The City of Westlake Village is proud to host its first annual Spring Fling in the Park event on Sunday April 7th, 2019 from 2-5 pm at the Westlake Village Community Park. If you haven't already, come experience Westlake Village's beautiful state-of-the-art park facility, complete with volleyball courts, turf soccer and baseball fields, two tot lots, a skate park, fitness equipment and walking trail. The event will feature a petting zoo, face painting, balloon animals, egg hunts for kids under 10, food trucks and much more! Val Surf will be stationed at the skate park providing giveaways. All activities are free to the public with the exception of the food trucks. The afternoon kicks off at 2 pm with a free 30-minute yoga class on the park's expansive turf fields overlooking the Conejo Valley. All ages and ability levels are welcome to attend. Bring your own yoga mat or be one of the first 100 people to receive a free mat at the event! There will be a pre-recording of the class on the City's website for those who cannot attend or want to practice beforehand. At any point during the event, stop by the City table to receive one of 300 kites (first-come, first-serve) or participate in arts and crafts activities. Families are welcome to bring their own kites and take advantage of the park's perfect flying conditions atop the hill. Food trucks Farm and Flame and Kona Ice will be available starting at 2 pm, with seating available throughout the park. Egg hunts will be held on the baseball fields every 30 minutes with the first hunt starting at 3 pm. Bring your own basket or bag and collect toy or candy-filled eggs scattered across the fields. Different age groups will be located on different fields. (Ages 0-3 on Field 3), (Ages 4-6 on Field 2) and (Ages 7-10 on Field 1). For more information or questions on the event call (818) 706-1613 or visit the City's website at www.wlv.org/springfling.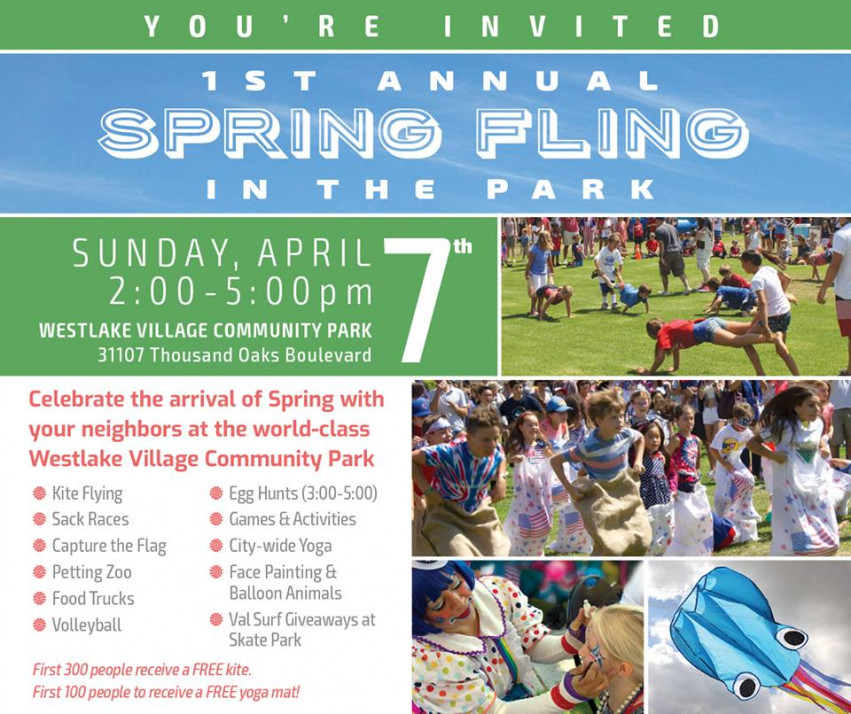 Flashlight Egg Hunt and Hike
April 12th Friday 7 pm to 9 pm
Enjoy ongoing Egg Hunts throughout the event along with a special Egg Hunt HIKE for an additional fee, where small groups will walk along a trail looking for eggs with their flashlights. There will also be bouncers, crafts, and a glow zone on-site. We hope everyone has a hoppin' good time! Call 805-381-2791 or visit www.crpd.org/egg for more information.

Children 2 & up: $3 Admission
Children 2 & up: $2 Egg Hunt Hike
No registration required, pay at the gate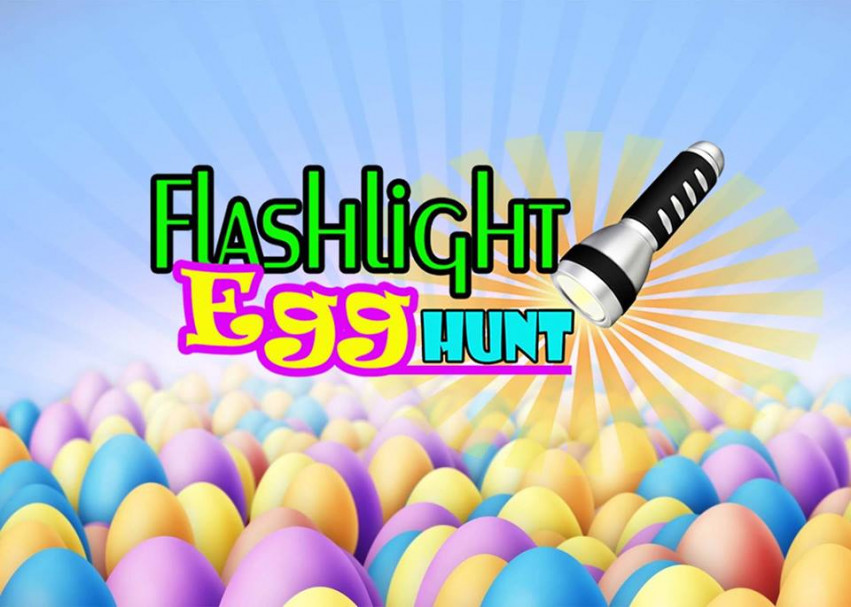 The Bunny Trail Junior Egg Hunt at De Anza Park in Calabasas
Saturday April 13th 9 am to 12 pm
THE BUNNY TRAIL – JUNIOR EGG HUNT (AGES 8 & UNDER)

No more dashing for eggs! Your youngsters will slowly make their way around Juan de Anza's "bunny trail" while enjoying face painting and crafts, a petting zoo and time with the Easter Bunny!

Eggs will be hidden along the trail and everyone takes home a treat!
Saturday, April 13, 2019
9:00 a.m. – 12 Noon
at Juan de Anza Park
$3.00 per child – Pre Tickets Required / No On-Site Ticket Sales.
Pre-purchase tickets in person at Juan Bautista de Anza Park daily from 8:00am – 9:00pm starting March 11, 2019.
Cash or Check only. Limited tickets available.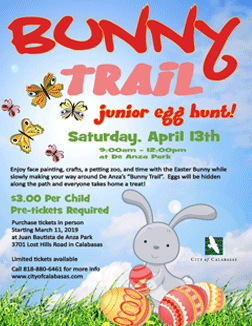 Breakfast with the Bunny at the Reyes Adobe in Agoura Hills
Saturday April 13th 10 am to 12 pm
Ages 2 -10 come out to enjoy a day with the Bunny. There will be a light breakfast and egg hunt along with plenty of photo opportunities. Skip the lines at the mall and come out for an event the whole family can enjoy. Cost is $2/person and children under 2 are Free. For more information, call (818) 597-7361.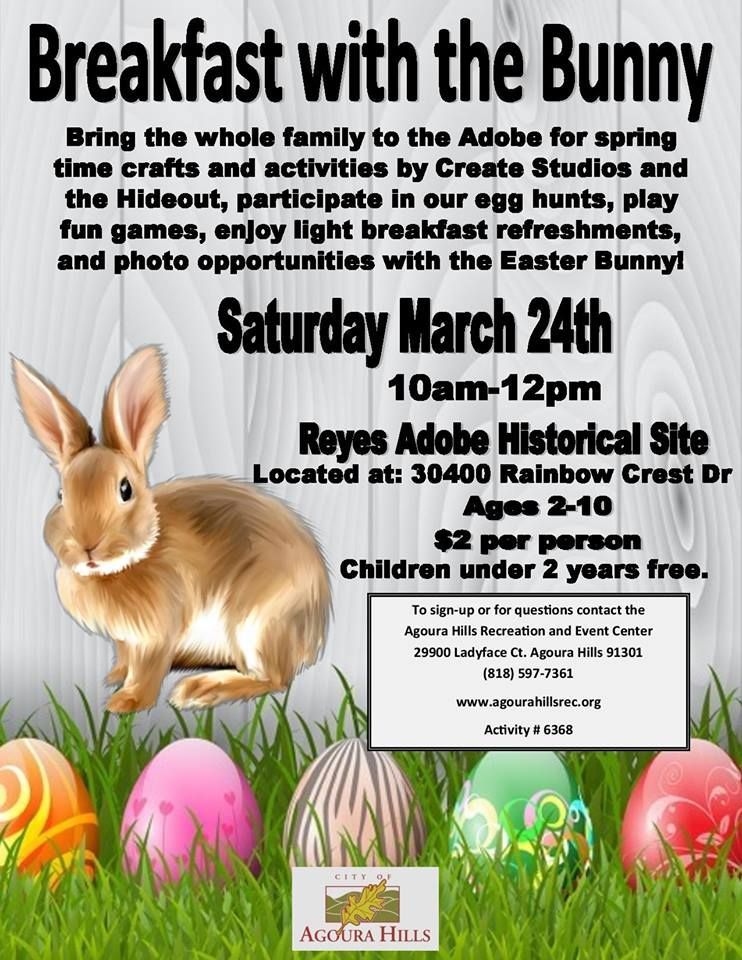 Easter Egg-Stravaganza at The Commons at Calabasas
April 16th Tuesday 5:30 pm to 7:30 pm
Come on, get hoppy at an egg-citing event for the whole family. Enjoy face painting, an egg hunt, a marionette puppet show, and a visit from the Easter Bunny!

Complimentary admission.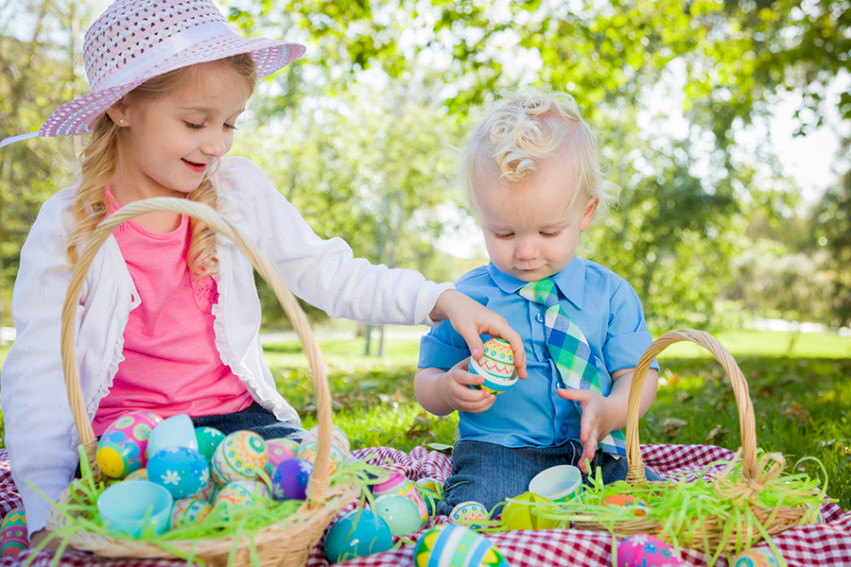 Easter Egg-Stravaganza at The Lakes in Thousand Oaks
April 17th Wednesday 5 pm to 7 pm
Kids Club Presents: Easter Egg-stravaganza

Come on, get hoppy at an egg-citing event for the whole family. Enjoy face painting, an egg hunt, a petting zoo, a live DJ, and more. Plus, get ready for a photo op with a visit from the Easter Bunny!

Complimentary admission.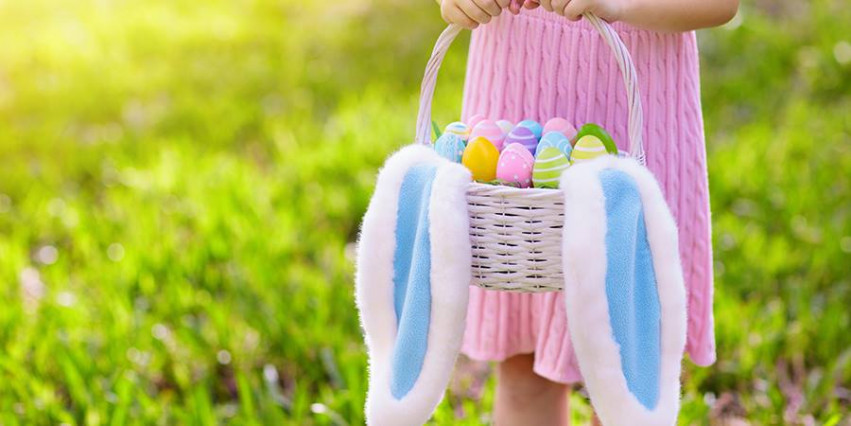 Simi Valley Spring Egg Hunt
April 20th Saturday 9 am to 11 am

Celebrate the Eggcitement of the coming of Spring on Saturday, April 20, 2019 at Rancho Santa Susana Community Park, 5005 Los Angeles Avenue, Simi Valley starting at 9 a.m. Call 805.584.4456 for more information. Free admission. Rain cancels the event. www.rsrpd.org Bring your own basket! And perhaps bring a canned good or non-perishable food donation for Samaritan Center.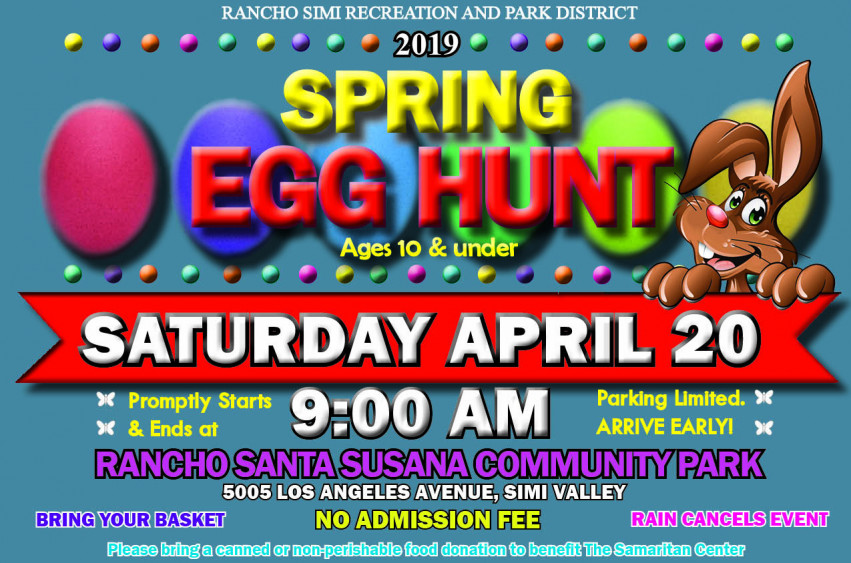 Spring Egg Hunt and Crafts show in Oak Park
April 20th Saturday 9:30 am to 2 pm
The Rancho Simi Recreation & Park District Spring Egg Hunt and Arts & Crafts Show is planned for Saturday, April 20, 2019 at Mae Boyar Park, 130 N. Kanan Rd. Oak Park from 9:30 am to 2 pm.
The egg hunt is for ages 10 and under (BYOB - Bring Your Own Basket): 3 and under at 9:30am Ages 4-5 at 10:45am Ages 6-7 at 11am Ages 8-10 at 11:15am Arts and crafts items! Dozens and dozens of vendor booths featuring items for adults and children; jewelry, clothing, toys, baby items, hair ornaments, hats, puppets, candles, soaps and more. Purchase tickets for inflatables, slide, train and hamster ball. Also an egg throw competition! Sign up before noon. Prize for the longest throw. Ages 10 to adult. Visit www.rsrpd.org or call the Oak Park Community Center at 818.865.9304 for more information.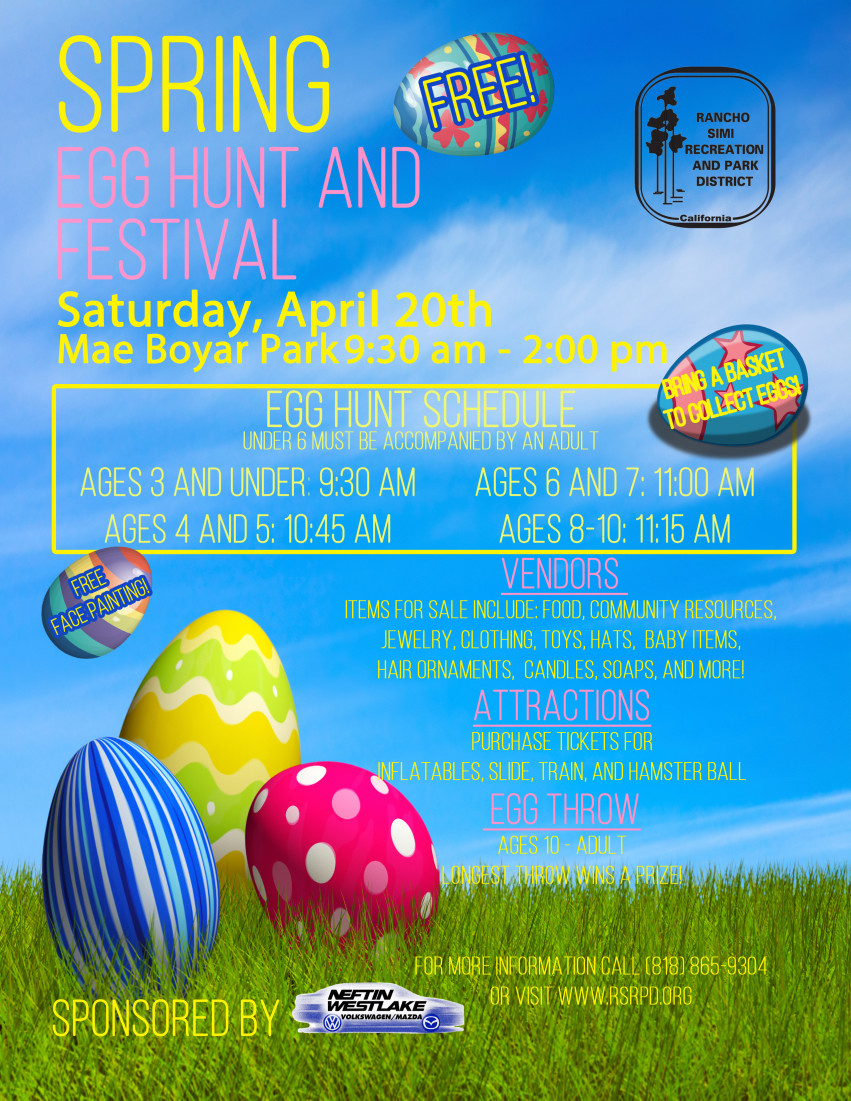 Easter Eggstravaganza & Spring Craft Fair at Camarillo Community Center Park
April 20th Saturday 10 am to 2 pm
Easter Eggstravaganza & Spring Craft Fair at Camarillo Community Center Park, 1605 E. Burnley Street, on Saturday, April 20, 2019 from 10 am to 2 pm. Event is free of charge and will feature egg hunts (with 20,000 eggs!!!), the Easter Bunny, entertainment, carnival games, petting zoo, craft and food vendors and much more! www.pvrpd.org/recreation/special_events/easter.asp Egg Hunt Times: Ages 5 and under and 6+ have separate egg hunt areas. Times: 10:30am, 11:15am, 12pm, 12:45pm and 1:30pm. Eggs filled mainly with toys and some candy.

City of Moorpark Egg Hunt
April 20th Saturday 10 am to 1 pm
Admission:
General Admission: $5.00
(includes egg hunt, one craft, one attraction, and one of each carnival game)
All Access: $10.00
(includes egg hunt,and unlimited attractions, crafts, and carnival games)
Egg Hunt Schedule:
10:00 am: Admission, games & attractions open
10:30 am: Tiny Tots (ages 3 & under, parents ok)
10:45 am: Little Kids (Ages 5 & under, parents ok)
11:00 am: Big Kids (Ages 6 & up, no parents)
11:30 am: Family Hunt (all ages, parents ok)
12:00 pm: Little Kids (Ages 5 & under, parents ok)
12:15 pm: Big Kids (Ages 6 & up, no parents)
1:00 pm: Games & attractions close


How egg hunts work:
Bring your favorite basket, collect as many eggs as you can, and turn them all in for a prize! For safety reasons, parents are allowed in hunts only as indicated in the schedule. Strollers and pets are not allowed in any egg hunt. All hunts are age specific. Please note that each hunt has a maximum capacity. A Family Hunt is available toward the end of the event if your hunt fills. Prizes distributed at this event may not be suitable for children under 3 years of age.