Modern Ocean View Townhome
Modern Oceanview Townhome in Beautiful Downtown Ventura
Welcome to 793 East Santa Clara Street in Downtown Ventura
Stunning tri-level townhome with modern upgrades located downtown Ventura with gorgeous views from two ocean-facing balconies that offer incredible views of Ventura's majestic coastline. Walking distance to the beach, restaurants, art galleries, and Ventura's farmers market, this home offers modern touches, ocean views, and a downtown lifestyle.
Priced at $795,000
Ocean Views
Sweeping views of Ventura's captivating ocean can be enjoyed from two levels of this divine townhome. Enjoy all the beauty that Ventura has to offer all from the comforts of your home. Step outside to the cool ocean breeze as you enjoy your morning cup of coffee or watch the alluring sunset with a glass of wine.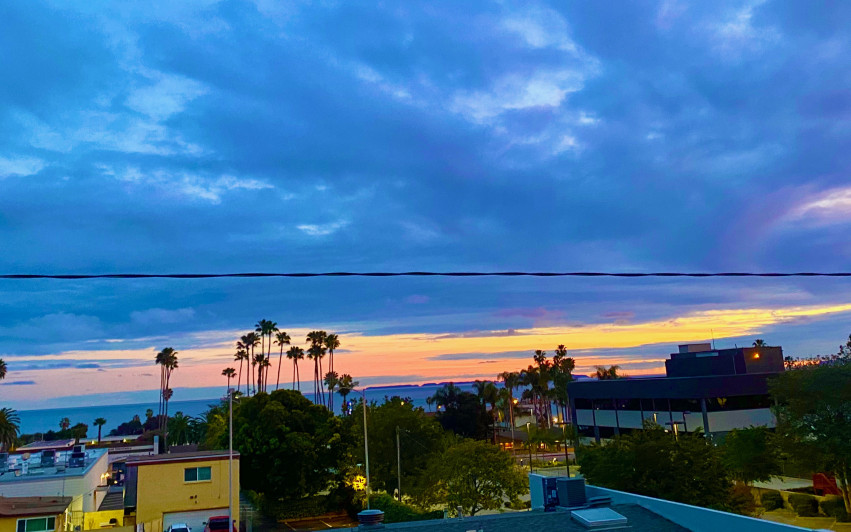 Modern Touches
Soaring ceilings, indulgent natural light features, artistic architecture designs mixed with function and neutral tones provide a modern style home designed for everyday living.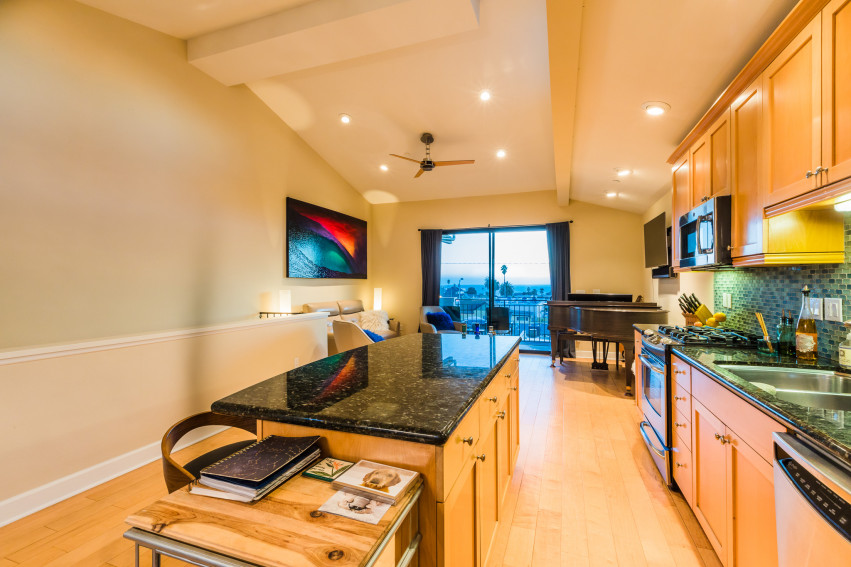 Elegant Kitchen
Located on the top level, this exquisite kitchen offers sparkling granite countertops, alluring glass backsplash, stainless steel appliances, warm wood cabinets, a large kitchen island, and plenty of storage for all your culinary needs. Enhanced with recessed lighting, appealing aesthetic designs, and natural light, this kitchen is sure to combine function, beauty, and simplicity all in one.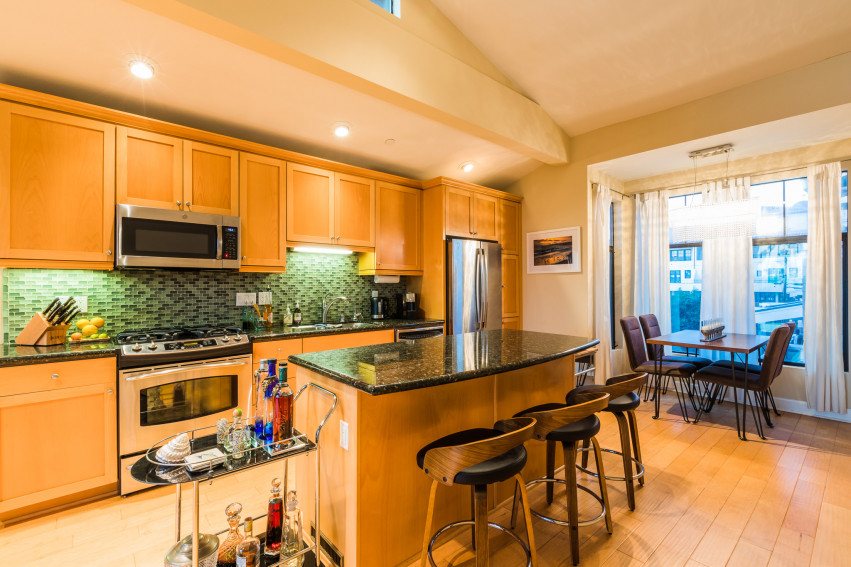 Entry Level
With direct access from the garage or thru the front glass door, this area is perfect for a small den, home office, or a professional looking for office space within their home setting.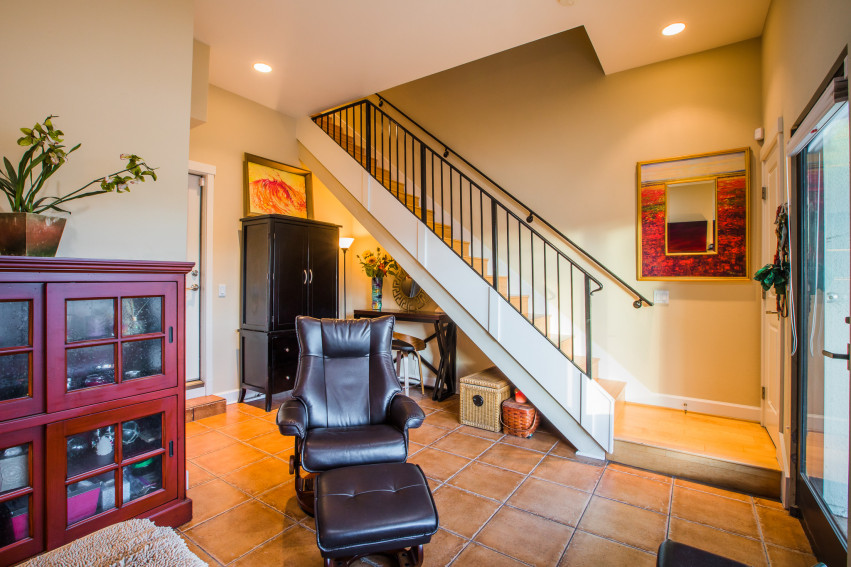 Sleeping Quarters
Both bedrooms are located on the second level, providing privacy and space. Warm maple flooring, custom molding, angelic windows, and plenty of storage provide a cozy place to retreat after a long day.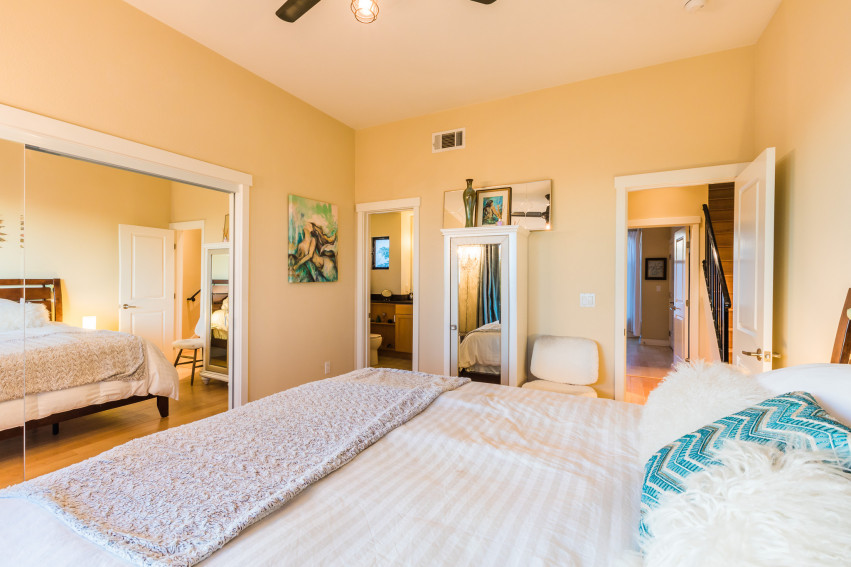 Gorgeous Bathrooms
With modern upgrades, this home offers updated bathrooms throughout. Beautiful vanities, updated tile, and storage space provides a practical space that is also appealing.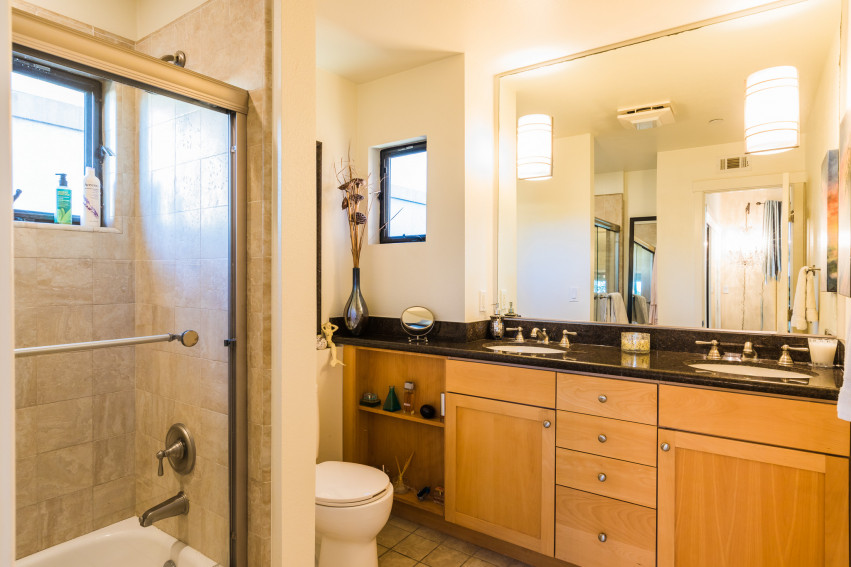 Living Space
The open and spacious living space provides beautiful views, an open floor concept, and soaring ceilings, Located on the top level, this space is perfect for gathering and entertaining with direct access to the balcony with incredible views.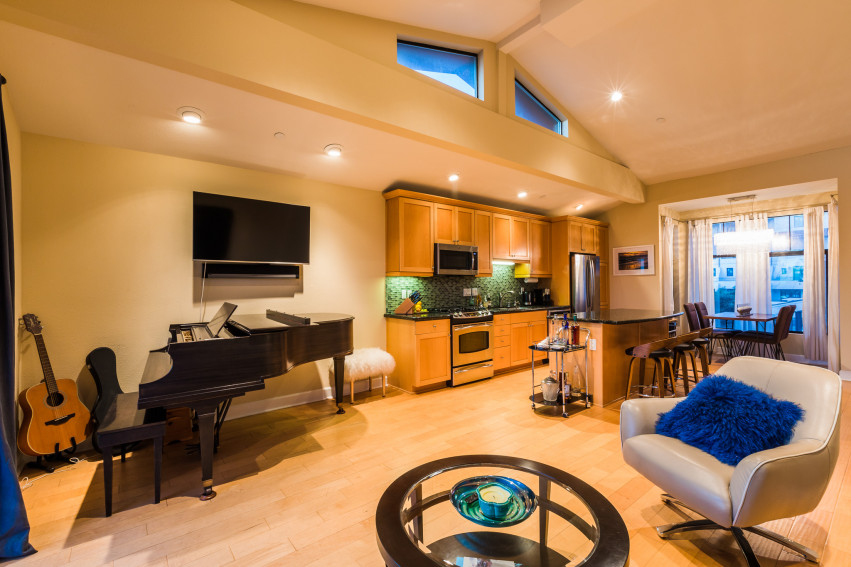 Garage Space
Enjoy the simple pleasures of Downtown living without the hassle of finding parking. With a private garage with direct access to your home, this home offers parking that is rarely found with ocean viewing Townhomes.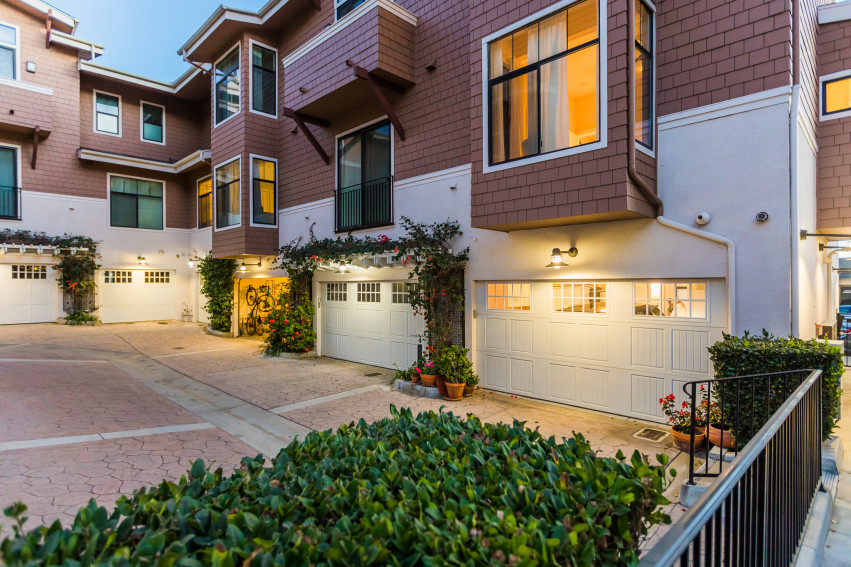 Our Reviews
My husband and I are still pinching ourselves
My husband and I are still pinching ourselves as we write this from our new home that Eddy and Oscar helped us find and close on during the *insanity* of the pandemic housing market.
I can't imagine how many conversations these guys have had with nervous and inexperienced homebuyers like us, but they were so incredibly patient, communicative, and knowledgeable from our first conversation until well past our closing date that it truly felt like we were their only client (we absolutely were not - these guys are busy!)
They spent a ton of time educating us on each stage of the home buying process, patiently explaining lingo, and answering every question we had (even the ones we lobbed over at 10pm...). Beyond sourcing options day in and day out, they also made themselves available to us on our schedule to go view them which was so appreciated.
When you're looking for an agent, I don't think the importance of network connections can be overstated. Eddy and Oscar's industry relationships (plus, let's be real, their cutthroat competitiveness) were absolutely the reason that we were able to close on our dream house in a neighborhood we love - nobody else could have done it.
We're so grateful to them for making homeownership possible for us, cracking us up along the way, and for going to bat for us like we were family.
If you've read this far I think you could probably guess that these guys will be our agents for life - we cannot recommend them enough!!
They really listened to us and worked hard to find a good fit.
Anyone who has bought and/or sold a house knows that the process can be stressful. When my husband told me he was ready to sell our house in 2021 during a pandemic I was not on board. He had me "just listen" to Eddy about the market. I obliged. Eddy assured me that we would place a contingency in our sales contract stating sale is only valid once we have found and had an offer accepted on a new home. After a few days of contemplation, our home was listed.
We only had to be out of the house for one weekend of showings. By Monday we had multiple offers. Before the end of the week we accepted an offer that far exceeded our asking price. Eddy and Oscar took us to many homes trying to find one that would check the boxes for our family dream home. They really listened to us and worked hard to find a good fit. Once we found, "the one". they worked their magic and helped us negotiate a solid offer. It was accepted first round!
After that they coordinated everything to meet deadlines for inspections - working both sides, our home sale & new home purchase. They were always available when we had questions and truly calmed our nerves during a highly stressful transition. I cannot speak highly enough in regards to their work ethic, knowledge of real estate, and passion for what they do.
By the end of the process I feel honored to call them, our friends. They truly care about their clients and will exceed your expectations.
Eddy and Oscar were kind, caring and empathetic.
I used Eddy and Oscar to sell my parents' home after I moved them to an assisted living facility. As a military spouse I have extensive experience moving, but not coordinating a move with downsizing and selling a house. It was a somewhat traumatic transition for a variety of reasons and Eddy and Oscar were kind, caring and empathetic. They used their extensive real estate knowledge to advise me on move timelines, POA/trustee issues and the psychology related to pricing a house to maximize our profit, with an accepted offer $70,000 over asking price. They worked tirelessly to coordinate the sale so I could complete the majority of the sale virtually. And, their unrelenting support and humor were invaluable during this 'hot mess' of a transition. I would recommend Eddy and Oscar without reservation.