Spacious 2 Bedroom Townhome with beautiful mountain views
Welcome to 6542-7 Twin Circle, Simi Valley
Nestled in the rocky foothills of Simi Valley, this spacious 2 Bedroom Townhome offers park-like grounds, a quiet neighborhood, and a perfect place for you to call home. With a 2 car garage and laundry area, this home is move-in-ready and perfect for a first-time homebuyer or homebuyer looking to down-size.
Priced at $389,950
Spacious Living
As you enter you are greeted with fresh paint, recessed lighting, a warm fireplace, and an open floor plan. This spacious living space is open to the kitchen, dining area, and patio area allowing for easy access from one space to another. Tile flooring and warm gray tones provide a neutral backdrop just waiting for you to put your final touches.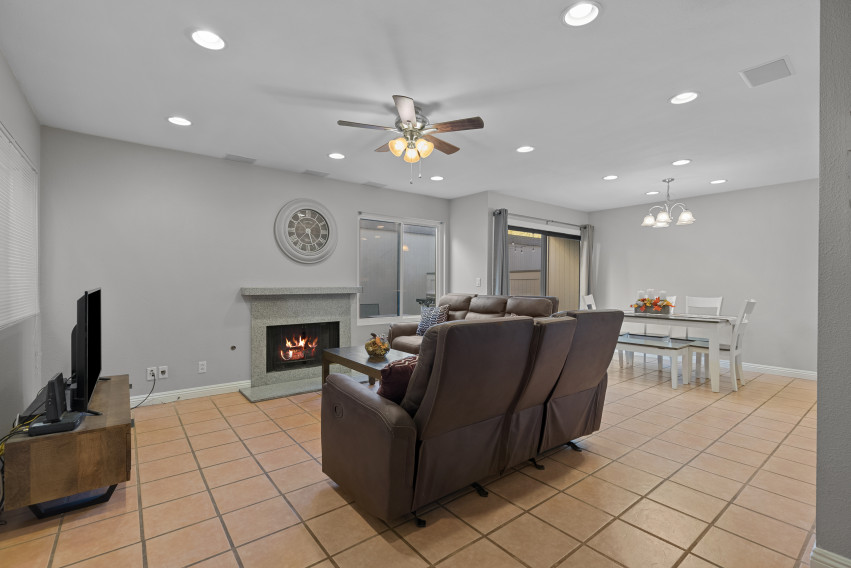 Beautiful Kitchen
Rich dark cabinets and sparkling granite countertops provide an elegant kitchen space that is functional and appealing. Bright tile backsplash and stainless steel appliances add touches of beauty to this ready to use kitchen. Whip up your family favorites and enjoy the large counter space and good-size kitchen pantry rarely found in townhomes.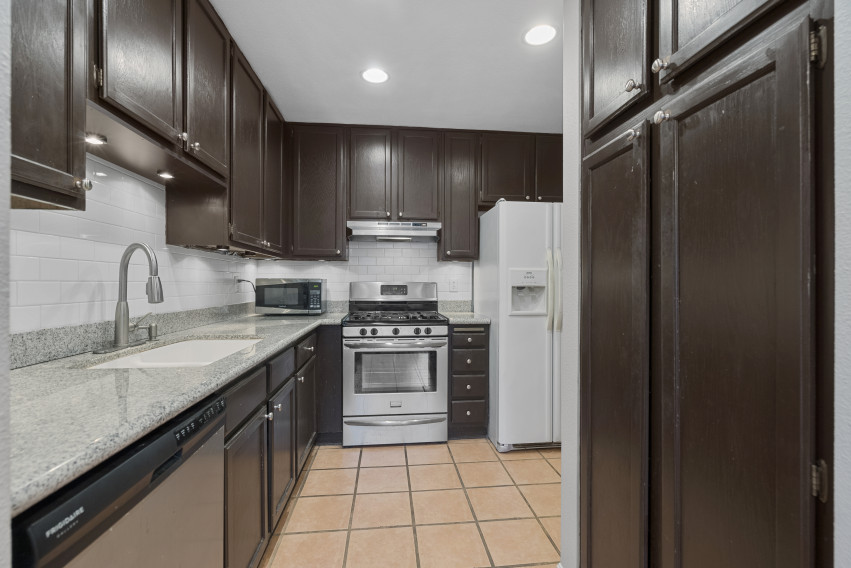 Dining Area
The open dining area allows for natural light and easy access to the kitchen making entertaining a breeze. Open the slider for Al Dente dining or host more guests by utilizing the patio space for additional seating.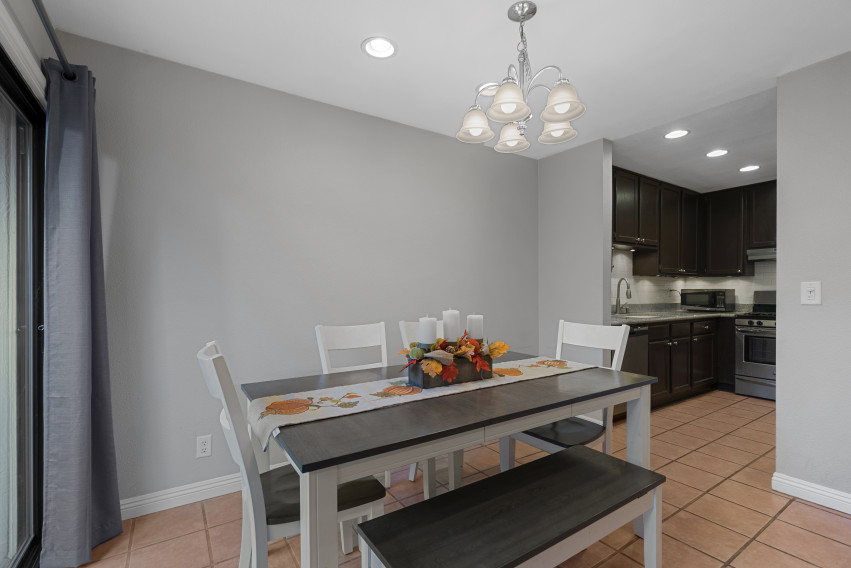 Guest Bath
The guest bath is located downstairs with granite countertops and a vanity with storage.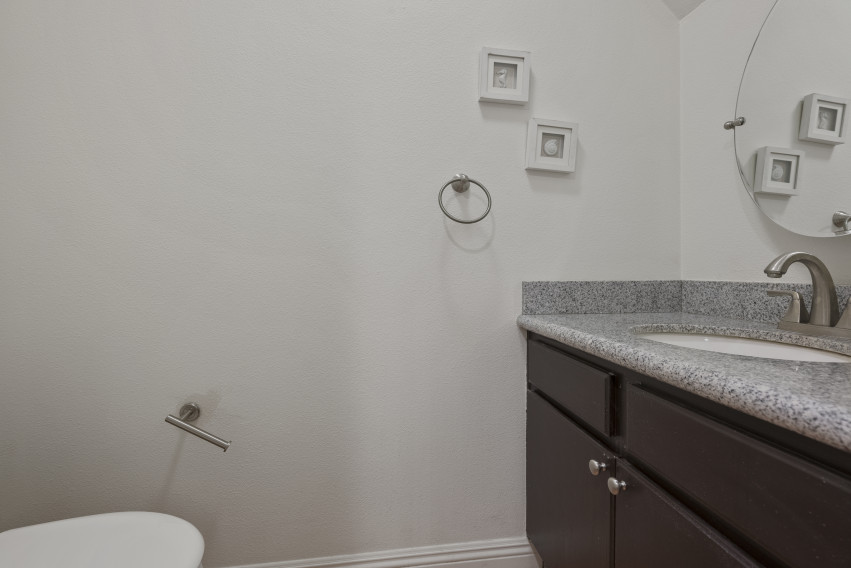 Laundry Area
Space for both a full-size washer and dryer, this laundry space is not common in most townhomes. With storage and convenience, this space is sure to make your laundry duties easier.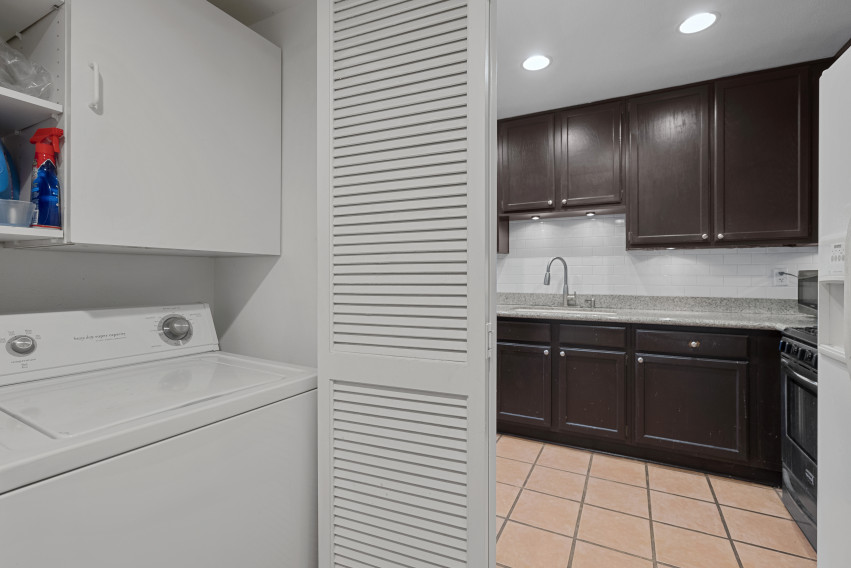 Upstairs Landing
Not only is this townhome spacious, it also provides lots of storage. As you enter the upstairs landing you are greeted with large storage for all your family needs.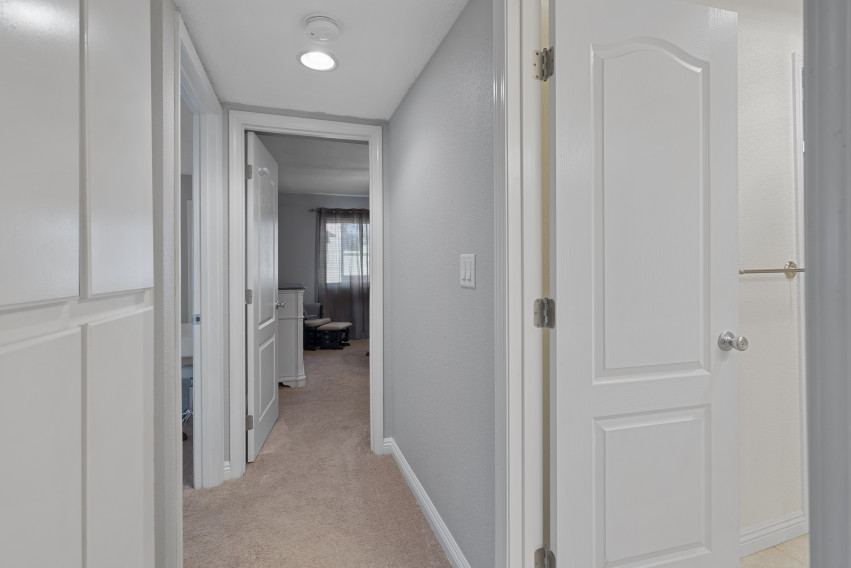 Master Bedroom
The sleeping quarters are located on the second level with a large master bedroom with a private entrance to a shared bath. This room offers plenty of natural light, and a perfect place to escape after a long day to relax and unwind.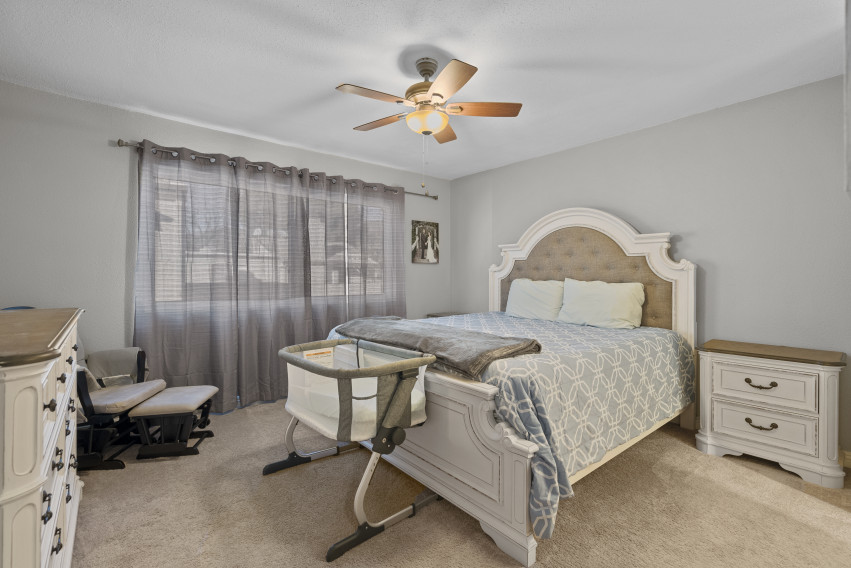 Second Bedroom
The second Bedroom offers storage, natural light, a ceiling fan, and fresh paint.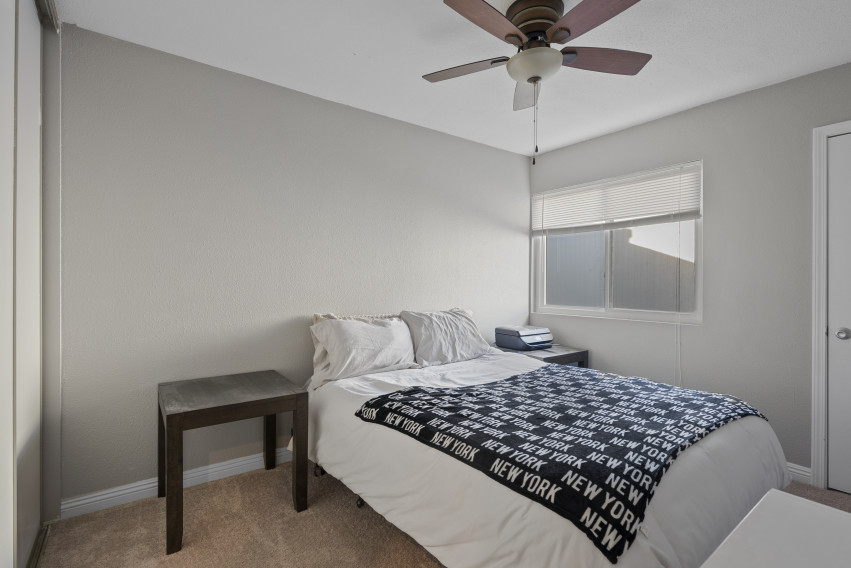 Upstairs Bath
The upstairs bathroom provides two entrances from the hallway and master bedroom. Stunning granite countertops with two separate vanities provide privacy and a ton of storage.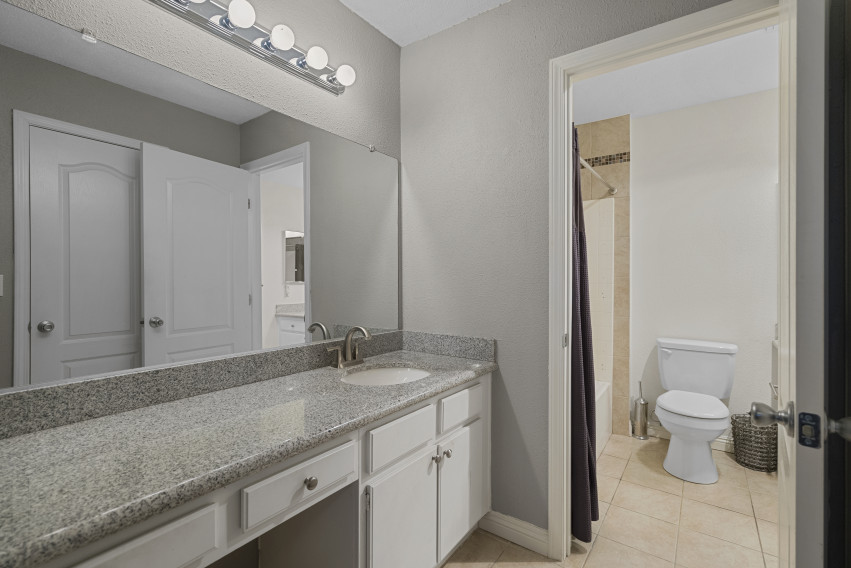 Patio
Enjoy the sunny California weather as you BBQ your favorite courses on your oversized patio. This tiled area is perfect for entertaining, escaping after a long day, or a perfect space for a small dog or play area.
2 Car Garage
With direct access to your patio area, this 2 car garage provides storage and makes transporting groceries and other items a breeze.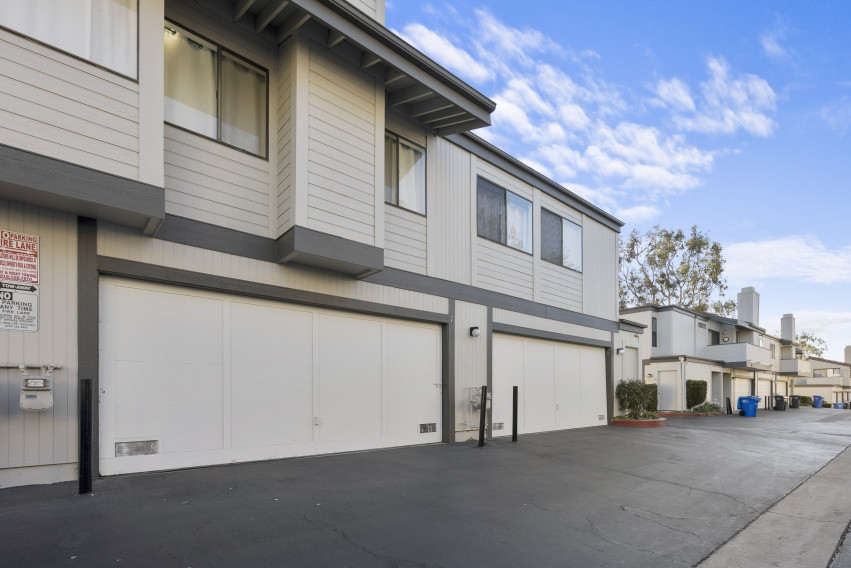 Pool & Tennis Court
Enjoy all the perks Sandalwood Village has to offer with two separate pools and spas, tennis court, and plenty of green pathways to enjoy all the beauty that surrounds this wonderful community. With an HOA of $370 a month, you will sure be able to utilize all that Sandalwood Village has to offer.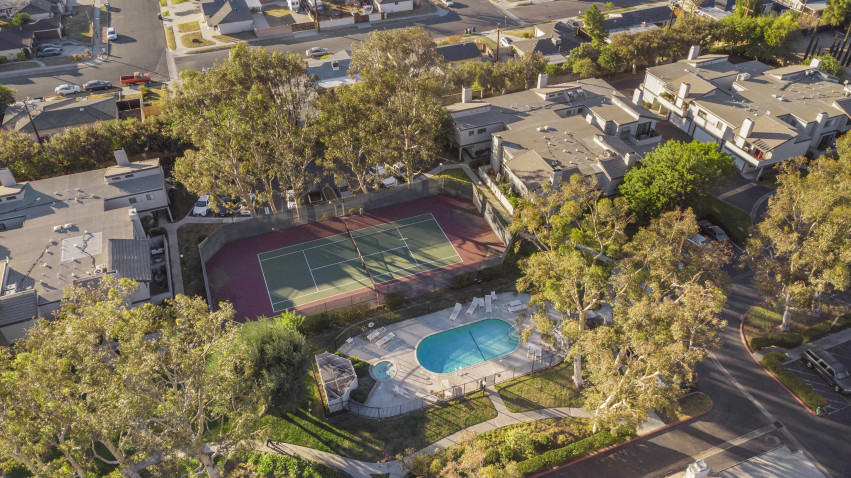 What our clients have to say
My husband and I are still pinching ourselves
My husband and I are still pinching ourselves as we write this from our new home that Eddy and Oscar helped us find and close on during the *insanity* of the pandemic housing market.
I can't imagine how many conversations these guys have had with nervous and inexperienced homebuyers like us, but they were so incredibly patient, communicative, and knowledgeable from our first conversation until well past our closing date that it truly felt like we were their only client (we absolutely were not - these guys are busy!)
They spent a ton of time educating us on each stage of the home buying process, patiently explaining lingo, and answering every question we had (even the ones we lobbed over at 10pm...). Beyond sourcing options day in and day out, they also made themselves available to us on our schedule to go view them which was so appreciated.
When you're looking for an agent, I don't think the importance of network connections can be overstated. Eddy and Oscar's industry relationships (plus, let's be real, their cutthroat competitiveness) were absolutely the reason that we were able to close on our dream house in a neighborhood we love - nobody else could have done it.
We're so grateful to them for making homeownership possible for us, cracking us up along the way, and for going to bat for us like we were family.
If you've read this far I think you could probably guess that these guys will be our agents for life - we cannot recommend them enough!!
They really listened to us and worked hard to find a good fit.
Anyone who has bought and/or sold a house knows that the process can be stressful. When my husband told me he was ready to sell our house in 2021 during a pandemic I was not on board. He had me "just listen" to Eddy about the market. I obliged. Eddy assured me that we would place a contingency in our sales contract stating sale is only valid once we have found and had an offer accepted on a new home. After a few days of contemplation, our home was listed.
We only had to be out of the house for one weekend of showings. By Monday we had multiple offers. Before the end of the week we accepted an offer that far exceeded our asking price. Eddy and Oscar took us to many homes trying to find one that would check the boxes for our family dream home. They really listened to us and worked hard to find a good fit. Once we found, "the one". they worked their magic and helped us negotiate a solid offer. It was accepted first round!
After that they coordinated everything to meet deadlines for inspections - working both sides, our home sale & new home purchase. They were always available when we had questions and truly calmed our nerves during a highly stressful transition. I cannot speak highly enough in regards to their work ethic, knowledge of real estate, and passion for what they do.
By the end of the process I feel honored to call them, our friends. They truly care about their clients and will exceed your expectations.
Eddy and Oscar were kind, caring and empathetic.
I used Eddy and Oscar to sell my parents' home after I moved them to an assisted living facility. As a military spouse I have extensive experience moving, but not coordinating a move with downsizing and selling a house. It was a somewhat traumatic transition for a variety of reasons and Eddy and Oscar were kind, caring and empathetic. They used their extensive real estate knowledge to advise me on move timelines, POA/trustee issues and the psychology related to pricing a house to maximize our profit, with an accepted offer $70,000 over asking price. They worked tirelessly to coordinate the sale so I could complete the majority of the sale virtually. And, their unrelenting support and humor were invaluable during this 'hot mess' of a transition. I would recommend Eddy and Oscar without reservation.