Valentine's Day Events in Ventura County
Valentine's Events in Ventura County
Whether you're looking for a romantic date night out with your significant other this Valentine's Day, or if you are avoiding the holiday entirely and plan on staying cozy on the couch, we've got you covered!
We've put together our favorite romantic and fun things to do in Ventura County with your significant other, best friend, or family.
Ventura Harbor Day Cruise
.Island Packers and Ventura Harbor will host a Valentine's Day harbor cruise 6-7:15 p.m. Feb. 14 at 1691 Spinnaker Drive, Suite 105B, in Ventura. Guests will board a 64-foot catamaran and cruise the Ventura Harbor and Keys. This event includes light appetizers by Copa Cubana Restaurant, plus one complimentary beverage of choice. Tickets are $26 per adult; $23 for seniors. For more information, visit https://reserve.islandpackers.com or call 805-642-1393.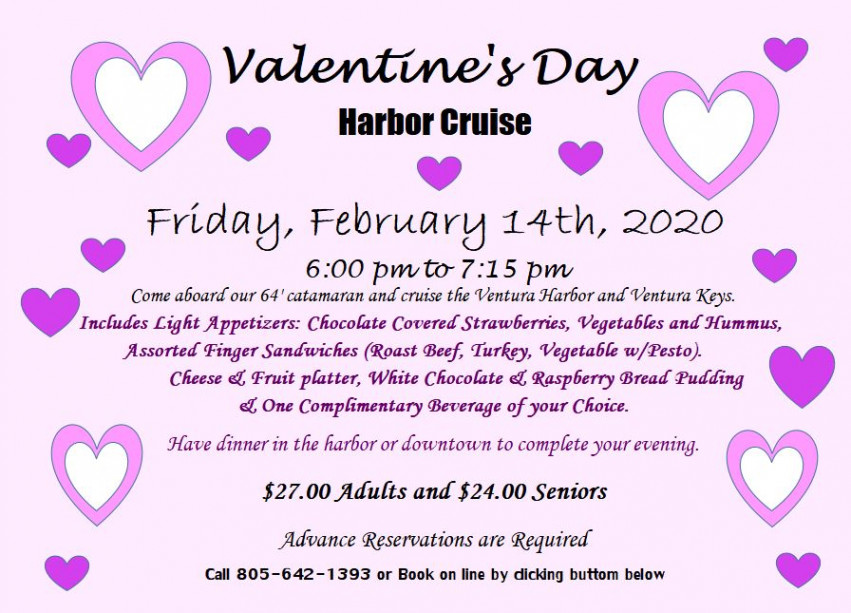 Donate Blood with your Valentine
.The Ventura Chamber of Commerce will present a blood drive noon-6 p.m. Feb. 14 at Vitalant Central Coast, 2223 Eastman Ave., Suite A, in Ventura. For more information, visit www.venturachamber.com or call 805-643-7222.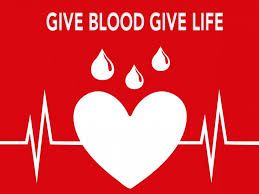 Dinner and Dancing at The Copa Cubana
Treat your special someone to a delicious dinner including an assortment of delightful appetizers, three mouth watering entrees, three sides, two tasty desserts and one beautiful Rose for your love.
A dance party of 80's and 90's R&B music provided LIVE by one of Copa Cubana's favorites HOUSE ARREST.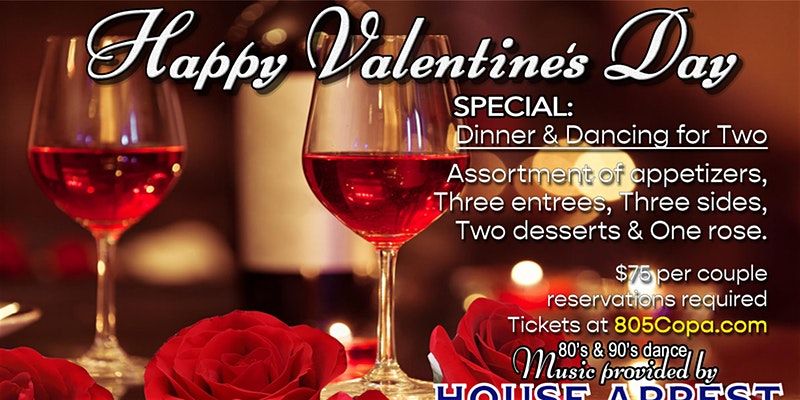 13th Annual Sweetheart's Dinner and Dance
The Ronald Reagan Presidential Library is pleased to announce our 13th annual Sweetheart's Dinner and Dance. We will be hosting an elegant evening for you and your special Valentine under the wings of Air Force One. Guests will dine at intimate tables for two and will enjoy a complimentary glass of champagne. There will be reserved and preferred table seating available for groups of four of more. You will be served a delicious three-course meal by our professional wait staff, including gourmet hors d'oeuvres, while listening to live music.

Tour the Ronald Reagan Presidential Museum and Egypt's Lost Cities from 6:00 p.m. to 9:00 p.m., and the Air Force One Pavilion from 6:00 p.m. to 10:00 p.m. Our professional photographer will be available to commemorate this special Valentine's Day. Upon conclusion of the evening, each couple will receive a complimentary red rose to take with them. Celebrate this special Valentine's Day at the Reagan Library.

Tickets are $195.00 per couple (includes tax and gratuity) and reservations must be made by Monday, February 10 at 8:00 a.m. Cocktail attire is suggested. For more information, to view a complete menu and to make reservations, please visit www.reaganfoundation.org/events or call 805-577-4057.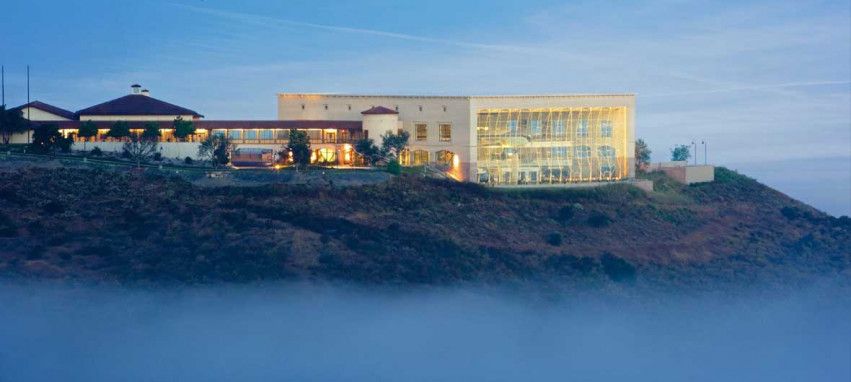 Gondola Cruise
Enjoy a romantic Venetian Gondola Cruise through the beautiful and serene setting of the Channel Islands Harbor (book early) or hop aboard an authentic Paddlewheel Riverboat cruise. Enjoy several waterfront restaurants including The Waterside Restaurant and Wine Bar which offers an intimate dining room area with sweeping harbor views, glass-enclosed heated patio, private patio, and party area, live entertainment every Wednesday through Sunday and a full bar. They feature an extensive selection of Wine, Spirits and Craft beers, sure to delight even the most sophisticated connoisseurs.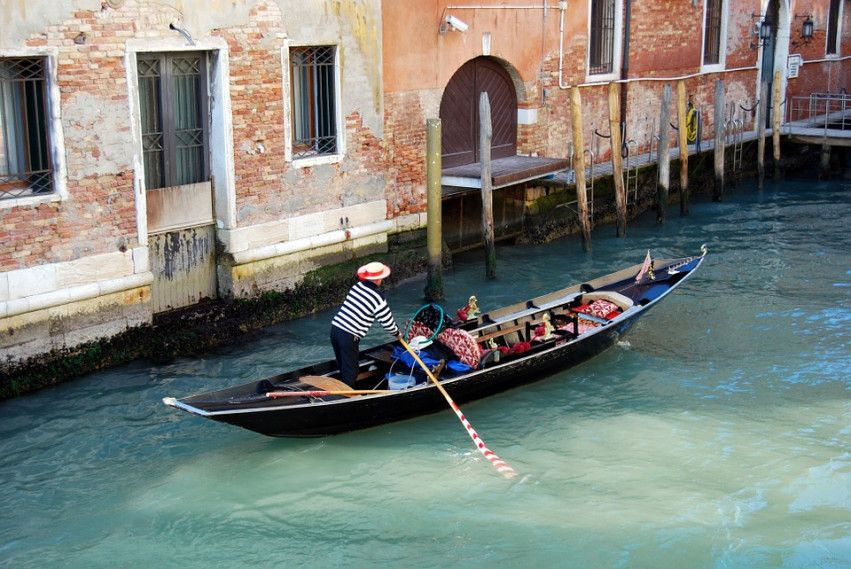 Wine Trail
The Ventura County Wine Trail features 11 artisan wineries, as well as the hottest entertainment destinations in Ventura County! Everything from unique wine tasting tours, outstanding restaurants, hotels, shopping, sailing and more can be found along the trail.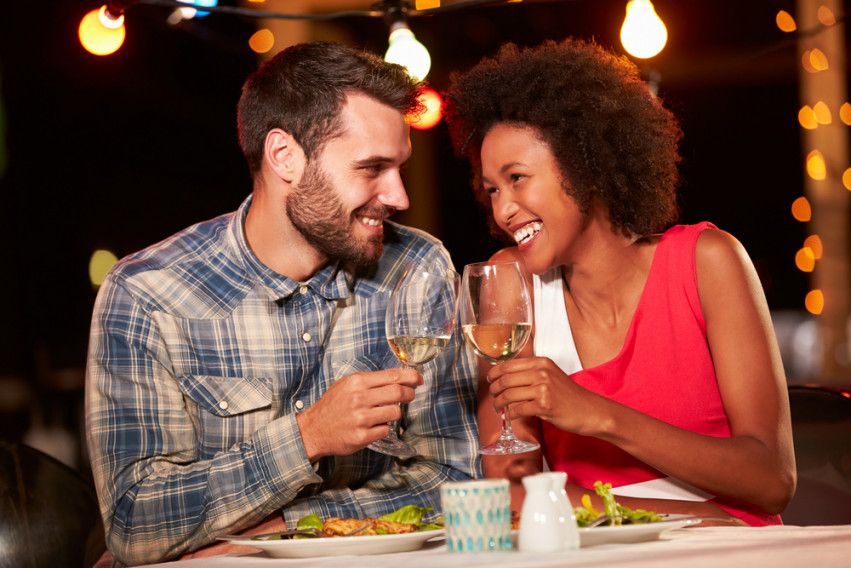 Weekend Getaway
Plan a stay at Mandalay Shores Resort. Fifty yards from a clean, white sand beach and the azure blue Pacific Ocean in Oxnard. Warm, sunny days and fabulous sunsets over the Channel Islands. Swimming, biking, hiking, shopping, Only an hour north of Los Angeles' many attractions, Mandalay Shores Resort is a small, personal resort, soothing and full of charm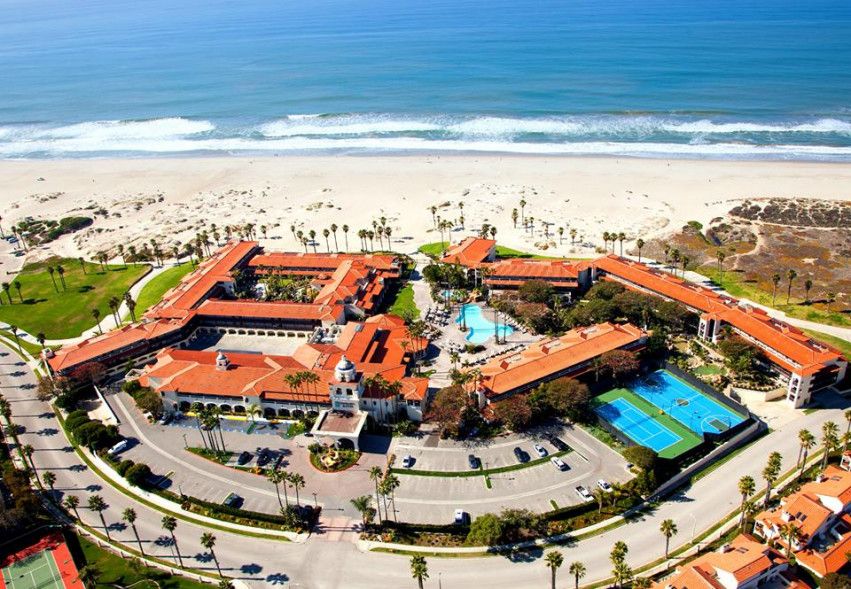 Inn at the Seventh Ray
It's that time of year again! The creek is flowing from the new rain, the frogs are chirping, and Valentine's is almost upon us!
Beginning on Thursday, February 13th, the Inn will be introducing our exquisitely crafted 5-course prix-fixe Valentine's menu.
On Thursday & Sunday that weekend, our guests will have the option of that enchanting 5-course experience at a reduced price or selecting items a la carte from the same menu. On Friday & Saturday night there will be no a la carte option - just the prix-fixe menu.
For those dining on Valentine's Day itself, there will be a brunch buffet during the day and only the 5-course prix fixe menu at night. Preferred ticket sales are now open - the only way to guarantee a spot on Valentine's night is to Book Now on Tock!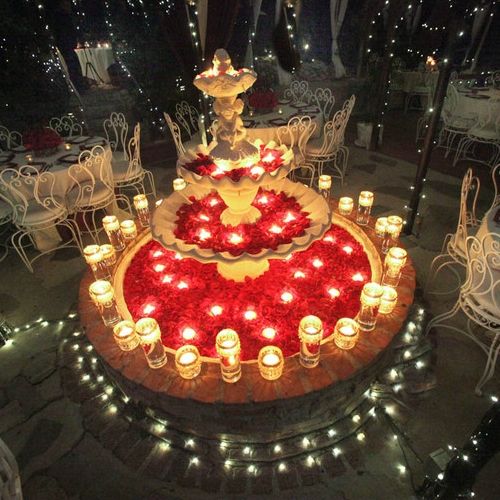 Mystery train in Ventura County
In the 1960s, Fillmore & Western Railway Co. provided vintage locomotives for Hollywood's period films. Today, they are fully operational passenger cars stationed in Fillmore (east of Ventura). On Valentine's Day, you and your partner can play movie stars with a three-hour mystery dinner tour aboard a dining car.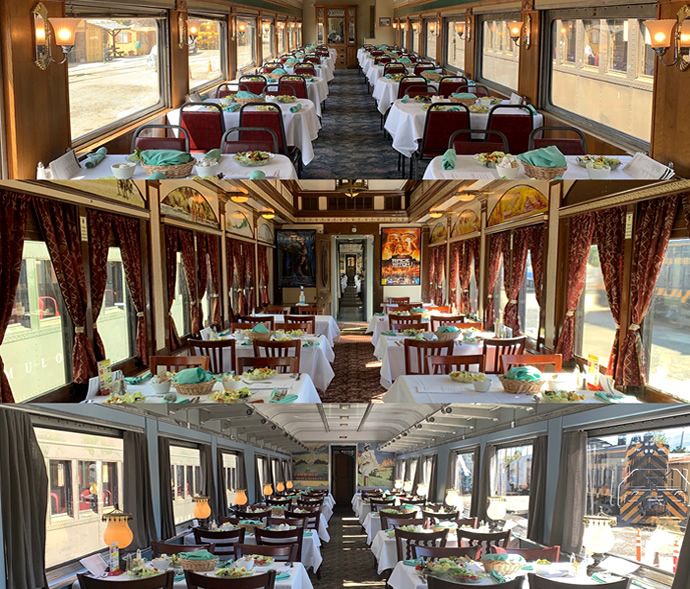 Mardi Gras Bash
New Orleans may be miles away from The Stonehaus, but that won't stop us from throwing an authentic Mardi Gras bash. From Friday, February 14th through the Monday, February 17th, you'll find authentic live music and lots of New Orleans cuisine! Incredible Gumbo and Beverages will be available for purchase. Come celebrate the spirit of New Orleans and Mardi Gras at the Westlake Village Inn.

LIVE MUSIC SCHEDULE
*Friday, Feb. 14th
-4:00pm-6:30pm Barrel House Wailers
-7:00pm-10:00pm Lisa Haley and the Zydecats

*Saturday, Feb. 15th
-3:30pm-6:30pm Darrell Leonard and the World's Greatest Line-up
-5:00pm-9:00pm The Barrel House Wailers
-7:00pm-10:00pm Lisa Haley and the Zydecats

*Sunday, Feb. 16th
-12:00-3:00pm Barrel House Wailers
-4:00-7:00pm Lisa Haley and the Zydecats
-7:00pm-9:00pm Louis Armstrong Band

*Monday, Feb. 17th
-12:00-3:00pm Barrel House Wailers
-4:00pm-7:00pm Lisa Haley and the Zydecats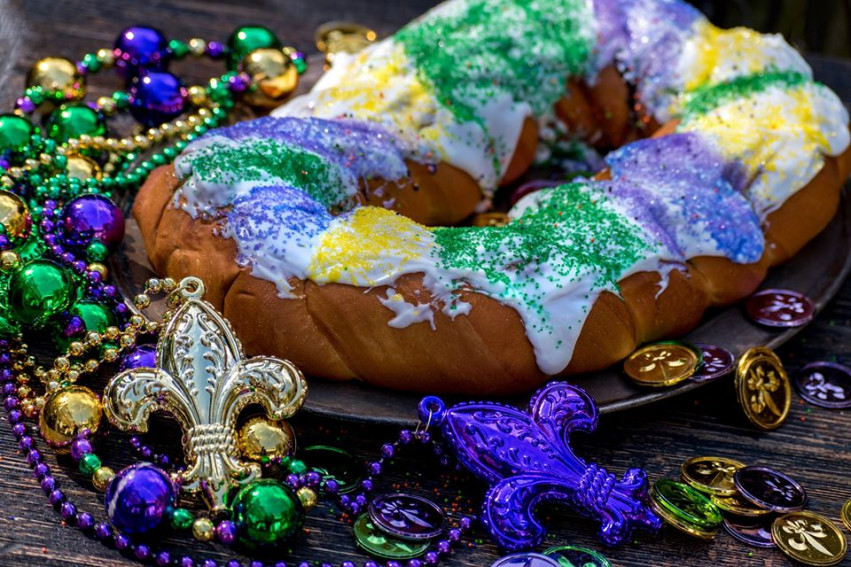 Twisted Gypsy
KATIE SHOREY of Twisted-Gypsy is back to perform a very special Valentine's Day dinner show! Dance to your favorite Stevie Nicks, Fleetwood Mac & classic love songs! Reserve your table and enjoy a special menu!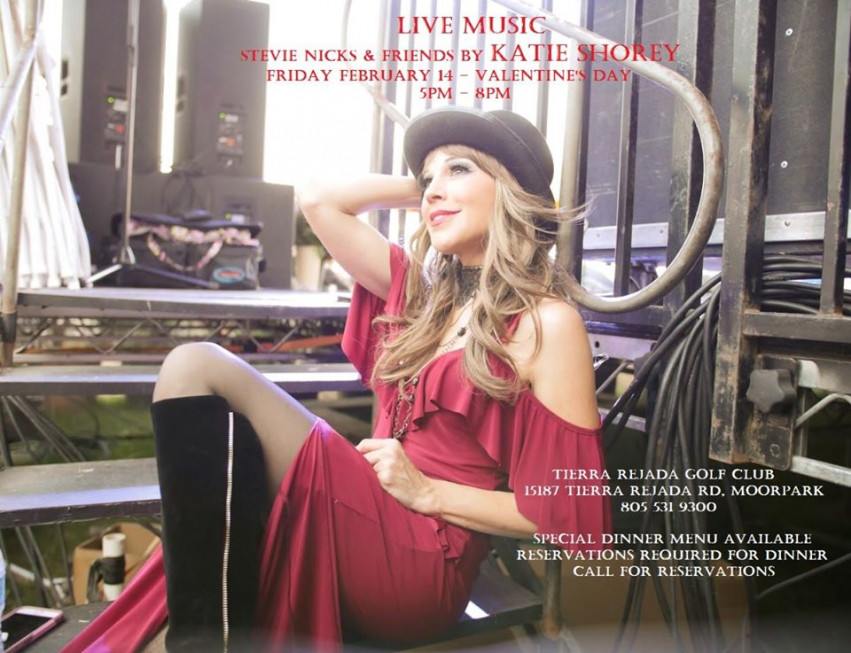 Couple's Coffee Mug Project
Join us for this special project at As You Wish in Simi Valley, any time on Valentine's Day! You and your honey will be provided 2 campfire-style mugs, a lesson plan with step-by-step instructions, and traceable images to paint your very own mug set. With a simplistic and modern design, these cuties are sure to kickstart your creative buzz and make a great addition to your mug cupboard! At only $40 per couple, could this deal "bee" any sweeter?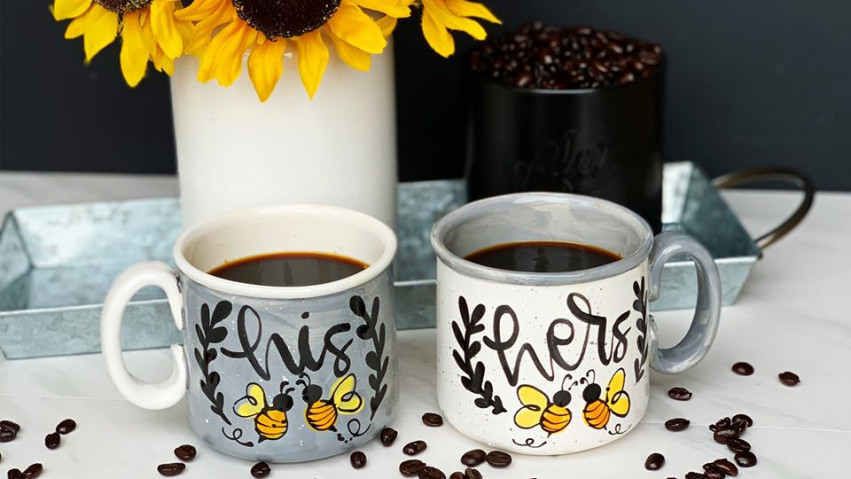 CASABLANCA
"Here's Looking at You Kid." One of the most famous movie lines of all time from the classic CASABLANCA.

This Valentine's Day the Free Clinic of Simi Valley Invites You to join them in CASABLANCA For An Evening of Dinner and Dancing.

The evening will include dancing and dining in a CASABLANCA themed room, Mediterranean flare menu, Rick's Bar, music provided by the award-winning Royal High School 20 piece Jazz Band, a dessert bar and 40's costumes.

All proceeds from the event benefit the Free Clinic of Simi Valley.

JOIN US for this evening of fun on Friday, February 14, 2020 from 6:00 p.m. to 10:00 p.m. at 2850 Lemon Drive, Simi Valley, CA 93063.

Tickets may be purchased at www.fcvalentinesdinner.com. or call the Free Clinic at 805-522-3733 for more information.

"Here's Looking at You Kid."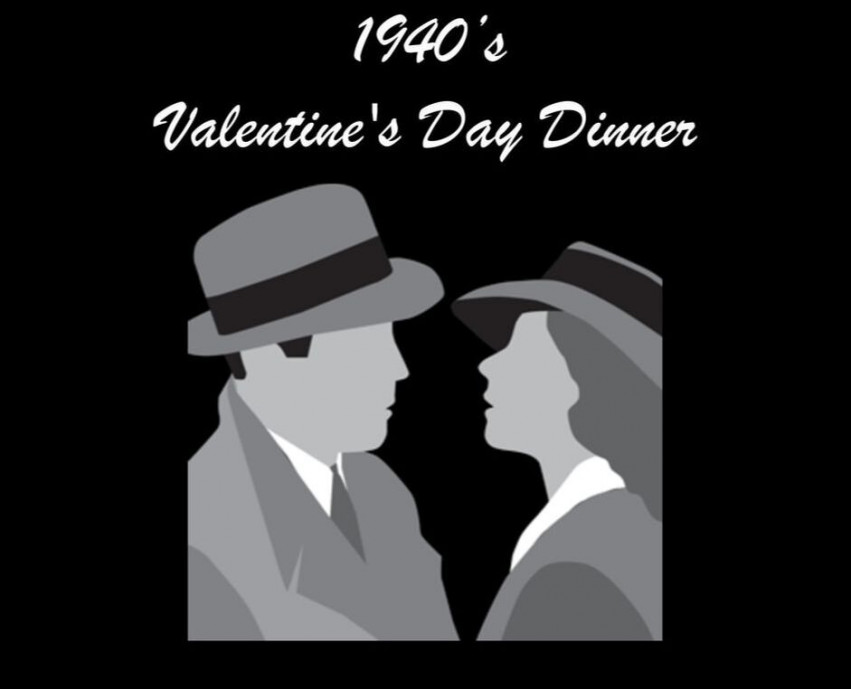 Adopt a Valentine
💕 Adopt Your Valentine! VCAS is brimming with adorable dogs, cats, and rabbits who need homes. We are lowering adoption fees to just $14 from February 15-16, 2020. Adopters may still have to pay a small pet license fee, if applicable.

ADOPTION HOURS:
Camarillo Animal Shelter
11:00am - 6:00pm

Simi Valley Animal Shelter
12:00pm - 6:00pm
---

You're Invited! Come adopt a loving pet at our 7th annual Pet-A-Palooza Pet Adoption Event at Theresa's Country Feed and Pet! All animals are from Ventura County Animal Services.

Our host is also sponsoring all adoption fees and will be sending adopters home with a FREE BAG OF DOG FOOD! Thank you, Jeff Kirby, owner of Theresa's! Jeff is also discounting all in-store purchases 10% during the times of the event (11:00am - 3:00pm). :-)

Rain or shine, come and adopt your next best friend. Big dogs, small dogs and everything in between! Although adoption fees are sponsored, a small pet license fee may apply depending on the city you live in.

• FACE PAINTING • BOUNCE HOUSE • FOOD • MUSIC • PET VENDORS • RAFFLE PRIZES and MUCH MORE!

See you at Theresa's Country Feed & Pet on Saturday, February 15th, 2020.